It's Friday! That means it's time for my weekly wrap-up. This is my chance to tell you about what I've been up to, and what I'm loving this week! You'll see that some of it is nutrition and health related, and some of it is just for fun. Let's go!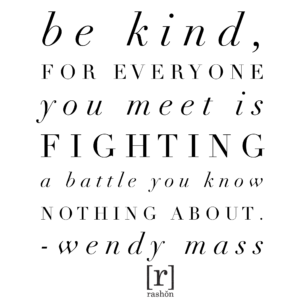 In Case You Missed It:
This week's dose of Monday Moxie inspiration was about being kind.
Did you know that 100g of kale has more calcium than 100g of milk? I shared all the details of why you need to include kale, a true nutritional powerhouse,  in your diet in this week's Food for Thought.
I re-shared my posts on Endocrine Disruptors. If you don't know what these are, click through to read. Avoiding them can be vitally important to your health!
What I'm Reading:
Ok, so this week, I didn't have any time to read, unfortunately. I'm back to some research, but will be sharing more on that soon. I did, however, spend some time updating my Pinterest boards, so if you're looking for some healthy meal ideas, I've got you covered! Pinterest counts as reading, right?!? 😉 In case you haven't checked out my page before, I've got a look at some of my boards below!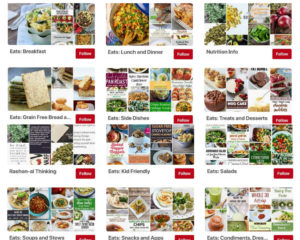 What I'm Watching:
Here and Now. I've been watching this show on HBO this past week, and have really enjoyed it. I'm about halfway through the first season. I'll be honest. I just found out this show wasn't renewed for a second season, so that's a bummer, but as of right now – 4 or 5 episodes in – I think it's totally worth watching. Ask me again once I actually finish watching the season. Haha. The synopsis from HBO: "From Oscar and Emmy winner Alan Ball (HBO's Six Feet Under, True Blood), and starring Oscar and Golden Globe winner Tim Robbins and Oscar, Emmy and Golden Globe winner Holly Hunter, the show is a provocative and darkly comic meditation on the disparate forces polarizing present-day American culture, as experienced by the members of a progressive multi-ethnic family — a philosophy professor and his wife, their adopted children from Vietnam, Liberia and Colombia and their sole biological child — and a contemporary Muslim family, headed by a psychiatrist who is treating one of their children." Here's the trailer in case you're interested.
What I'm Listening To:
Mark Ronson featuring Bruno Mars – Uptown Funk. We all know and love this song. I needed some upbeat, make you wanna dance music.
What I'm Wearing:
I thought I'd talk a bit about the makeup I'm wearing as we head into the summer months. I think for most of us, we hate slathering on heavy makeup when it's hot and humid outside. I shared my skin care routine a few weeks ago if you missed it. I've mentioned this before, but I'm no longer a Beautycounter Consultant – I just didn't have the time for it anymore; however, I still love and use their products, and am always looking for safe options when it comes to cosmetics, skin care and other personal care products. Ok, so on to my favorites right now. I've been using the Beautycounter Dew Skin Tinted Moisturizer for a couple of years now. I am super fair and use shade #1 – even in the summer. It goes on super light, but stays all day, and gives just enough coverage without feeling heavy. It also has SPF 20, which is great for days I'm not in the sun much.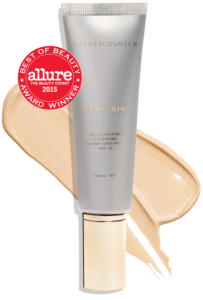 A few weeks ago, I mentioned that I had become obsessed with the Tarte Rainforest of the Sea™ Radiance Drops. I cannot express enough how much I love this product. I mix the Dew Skin with a drop or two of the Radiance Drops in my palm, and then apply all over my face. These drops will make your skin look bright and glowing all day long. They are a must have for any makeup bag. Seriously, go order them. Trust me.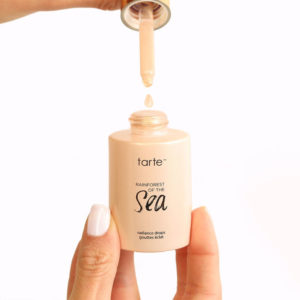 I have also been loving the Beautycounter Color Pinch Cream Blusher. I have it in the caramel color, but it comes in two other shades. The caramel color gives the perfect sun-kissed look, and can also double as a cream eye shadow. There was a highlighter set that came out over the holidays (no longer available), and I also use the rose gold cream blusher from that. I love that the cream blushes go on so easily, stay all day and keep your skin looking dewy.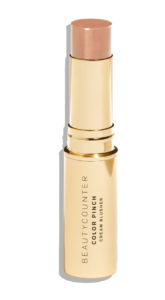 I will sometimes put on a neutral eyeshadow (usually from the Ultimate Nudes Palette), but I typically just finish things off with a little mascara, and then set everything with the Rosewater Mist. The mist is great for putting on before your skin care/makeup, will set your makeup, and is also a great refresher during the day to wake things up a bit. My little makeup routine is quick, light for hot summer days, but helps me feel put together. I'd love to hear your favorite products for summer, too!
What I'm Loving:
Now you guys know that I don't eat a ton of processed foods; however, there's a time in everyone's life when you just need a cracker. Am I right?!? I recently tried the Simple Mills Sea Salt Almond Crackers, and let me just tell you that I'm going to need someone to take the box away from me and hide them. Good gravy, these crackers are good. They are free of gluten/grains, corn, soy, dairy, and they don't have any gums or emulsifiers. I love that as with everything with this company, the list of ingredients looks more like a simple list of items on your grocery list – you can easily read the ingredients and they are real food and, well, simple. These crackers are crunchy and flavorful. If you're looking for an occasional snack item, I'm giving you the green light on these. Now, don't go eating the whole box – they are still carby and can spike your blood sugar – but for an occasional treat, they are perfect!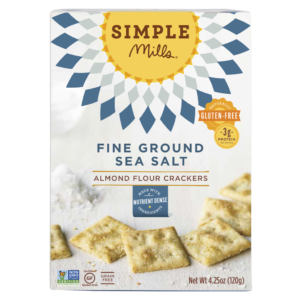 I'm Looking Forward To:
In the immediate future, I'm so looking forward to the weekend, and maybe a gin & tonic while cooking dinner tonight (hey, just being real here). Next weekend, I turn 40, and I'm actually super excited about it. Now, I won't pretend that I've just been looking forward to it – I've had some moments – but I'm really excited to celebrate with my family and friends, and I can't wait to see what's next!
What are your favorites from the week?
SaveSave
SaveSave