Happy Monday! For your little dose of inspiration this week, I want to encourage you to find small ways to take care of yourself. We all need to make time for ourselves, and do things we enjoy in order to recharge our batteries. We can't be there for everyone else when we're completely depleted. Self care can be so many things: Yoga, pilates, reading a good book, taking a walk, playing with your pets or kids, a date night out, a little drive through the hill country (well, for central Texans at least), watching your favorite movie, time spent on a hobby, spending time with friends and family – the options are unlimited. It's important to remember that self care is just that – for yourself – whatever it is that recharges your spirit and helps you take care of you better.
One of the ways I care for myself is with my skincare routine. I know that may not sound relaxing or fun for everyone, but for me, it is. Taking care of my skin is just one small way that I feel like I'm doing something good for myself. It's a morning and nightly routine – a few minutes that I give to myself. Honestly, I'm kind of obsessed with skincare products and trying new things. I enjoy researching products, talking about them to anyone who will listen and seeing how things work for my skin. The entire process is enjoyable for me, so I consider it part of my self care. Please know that I'm not saying I have the greatest skin or anything, and I also am not pushing an agenda where looks are the most important thing. Skin care, along with my little daily routine, gives me those few moments to myself, but also helps me to feel that I'm taking care of this one body I have in one more small way.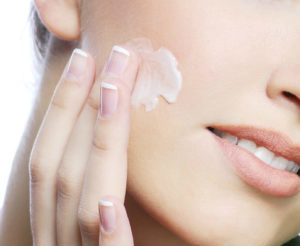 I thought I would share the products that I'm currently using, along with my daily routine. As many of you know, finding safer products is really important to me. What we put on our bodies is just as important as what we put in our bodies. I do my best to research ingredients, and find the safest products possible that also deliver results. I am no longer a Beautycounter Consultant, but I do still love and use their products. Not every product listed may be the safest, but I know the majority of them are, and that's good enough for me. It's progress over perfection.
Okay, on to the fun stuff! My general skin goals are to brighten, reduce the appearance of fine lines and wrinkles and to hydrate, hydrate, hydrate.
Here are the products I currently use (Note that these are not affiliate links. I'm just sharing what I love):
Simple Kind to Eyes Eye Makeup Remover Pads
Acure Sensitive Facial Cleanser
Beautycounter Countermatch Collection – Specifically, I use the Intense Moisture Serum, Eye Rescue Cream, Adaptive Moisturizer and Sleep Recovery Cream.
Beautycounter No. 1 Brightening Facial Mist
Beautycounter No. 1 Brightening Facial Oil
The Ordinary Resveratrol + Ferulic Acid
The Ordinary Rose Hip Seed Oil
I know this may seem like a lot to some of you – and that's okay! This is one of those things that is worth investing in for me. Choose the steps that work for you, and then find the products you love to accomplish your skin goals. Below I will outline my daily routine.
Morning:
I don't generally wash my face in the morning. I usually just splash with water.
Spritz on Brightening Facial Mist.
Immediately apply Hyaluronic Acid. Don't let the word acid scare you. Hyaluronic acid goes on almost like water, and it helps to put moisture back into the skin. It only takes a drop or two, so this product lasts a really long time!
Apply Intense Moisture Serum.
Apply Eye Rescue Cream to under eye area. This particular eye cream is great because it helps with fine lines and dark circles, too! Use your ring finger when applying anything under your eyes – it's the most gentle.
Apply Adaptive Moisture Lotion.
All of this takes me less than 5 minutes. The tinted moisturizer I use has SPF, so I generally don't apply separate sunscreen unless I'm going to be out in the sun more than usual. For facial sunscreen, I like Beauty by Earth or Clinique Mineral Sunscreen for Face.
Night:
I remove my makeup using the wipes or wash with the Acure cleanser. It all depends on how lazy I'm feeling.
Spritz on Brightening Facial Mist.
Immediately apply Hyaluronic Acid.
Apply Resveratrol+Ferulic Acid. Again, don't let the word acid scare you. This is a light serum with a bit of an oily texture, and again it only takes a drop or two.  These are antioxidants, which have powerful anti-aging properties. This needs to sit and soak in on the skin for about 15 minutes. If you move on to the next step too quickly, it will pill up when you apply the next product. There are nights when I'm too impatient for this step, and I will skip it.
Apply Eye Rescue.
Follow with Countermatch Sleeping Recovery Cream.
Apply either the No. 1 Brightening Oil or Rose Hip Seed Oil. I typically alternate these. Don't be afraid of using facial oils. They don't make your skin oily. Face oils have serious hydrating, brightening, anti-aging and antioxidant properties. Just make sure you're using a good quality oil.
Don't forget your neck! Generally, whatever products I'm using on my face, I also use on my neck – minus the eye cream. Additionally, I sometimes use the Beautycounter Charcoal or Brightening masks, the Charcoal Bar and various other brands of masks and products. I won't list them all or link them here because I'm pretty sure I've already overwhelmed many of you, and they aren't part of my daily routine – though I do love a good mask, and use them a few times a week.
This post wouldn't be complete without mentioning my friend (for 20+ years ♥️ ), Emily. We text almost every day, and I'd say at least 50% of our conversations are about skincare products – what we use and what's on our wish lists. Emily is loyal, honest and encouraging. She wants the best for me, and I want the same for her. We text almost every day, and a day never goes by without one us making the other laugh. Her friendship is beyond valuable to me, and our friendship is the most potent form of self care I could practice. Side note: she introduced me to The Ordinary line of products, which are super affordable, and concentrated, so a little goes a very long way. She knows the way to my heart. 😉
I do hope that seeing my current favorite products and skincare routine has inspired you to try some new things, or at the very least, spend some time taking care of yourself each day.
Tell me: What are your favorite skincare products? How do you practice self care?
SaveSave
SaveSave