It's Friday! That means it's time for my weekly wrap-up. This is my chance to tell you about what I've been up to, and what I'm loving this week! You'll see that some of it is nutrition and health related, and some of it is just for fun. Let's go!
What I'm Eating:

This week ended up being all about getting in more veggies and more greens, and I also wanted to make sure I was getting plenty of protein. I'll be honest, I've had a recent love affair with some gluten-free bagels. I've told you before I don't really eat a ton of bread (gluten-free, of course) because it's full of junk flours and high in junk carbs. Plus, once I start eating it, I can't stop eating it – hence the recent love affair. That being said, I knew it was just spiking my blood sugar and leading to me feeling hungry all the time, and it wasn't doing my waistline any favors, either. So, out they went. Enter all the real food.
One of my favorites this week was a tuna salad salad. I piled my plate high with greens (kale, spinach,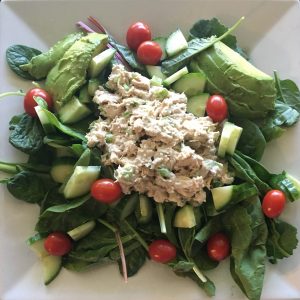 chard mix) and topped it with tuna salad, cucumbers, cherry tomatoes and half an avocado. Then I squeezed lemon juice over the whole thing to give it a little pop of flavor. Trust me, you want the lemon juice. In the tuna salad:
Two cans Wild Planet albacore tuna (this made enough for 3 meals, or you could serve 2-3 people) I like this brand of tuna because it's sustainably caught, high-quality, and the flavor and texture is awesome. I find this at HEB, Whole Foods, Costco and on Amazon.
1/4 cup avocado mayo. You could also just use an avocado in place of the mayo. Just mash it up and mix it in.
1 green onion, diced
2 stalks celery, diced
salt and pepper to taste
I kept it pretty simple, but you could add in any veggies or seasonings you like. I've also been eating a lot of bowls lately. I fill the bowl up with whatever veggies or greens I have (roasted, steamed, sautéed) then top with  chicken, beef (steak or ground beef), shrimp, fish, etc. I also make sure I have some healthy fats going on – olive oil, butter, avocado. There's something super comforting about a big bowl of food, and something about it just feels easy. It may not be super exciting, but it's been exactly what my body needs.
What I'm Reading: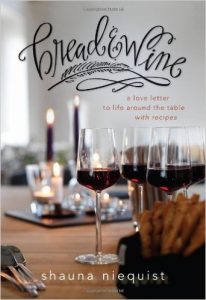 Bread and Wine: A Love Letter to Life Around the Table with Recipes by Shauna Niequist. I read this book more than a year ago, and I loved it so much, I ended up reading it again. This book is all about the memories made around the dinner table. But even more than that, it's about the beautiful experience of opening up your home, inviting people in and what happens when you feed those you love. It may be a 6 course fancy meal, or the simplest salad, but there's something that happens when you break bread, and share an evening with others. It's amazing what happens in our own hearts, as we feed and nourish those we love. Niequist's writing is phenomenal. She will make you laugh and cry, and sometimes both at once, but mostly she shares from her heart and makes you want to open yours up a bit more. At least that's what her writing did for me. It looks like I need to invite some friends over for dinner sometime soon.
What I'm Watching:
Passengers. Yeah, we're way behind on this one, per usual. We had a wild Saturday night in, and watched movies. Our plan was to go out and do something fun, but at the last minute, we bailed on our plans and stayed home. We did go out for a drive on Sunday, and did some walking in the Hill Country, though. Most of you have already probably seen this blockbuster movie starring Jennifer Lawrence and Chris Pratt. I will say that it's not what I expected at all, but it was really good.
What I'm Listening To:
So What by P!nk. This may be the most badass break up song ever – you know, before she and Carey Hart made up and got back together.
What I'm Wearing:
The weather is starting to warm up, and it's time to consider breaking out the shorts. I personally resist shorts for as long as I possibly can because I like to pretend it won't be 105 degrees in just a few short months. However, my absolute favorites are the Chino Shorts from J. Crew. They come in 3-, 4-, 5- and 7-inch inseams, so you can pick the perfect fit for you. I go with the 5-inch because I'm almost 6 feet tall. They come in a multitude of colors, and I've had several pairs for years, and they hold up well. I find they fit true to size. I don't have this gray color, but think I may need them this year. Also, sign up for J. Crew emails because these shorts almost always go on sale for 40% off – you just have to watch for it.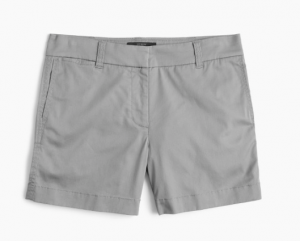 What I'm Loving:
Y'all. I'm not gonna lie. I got caught up in a rabbit hole of sitcom bloopers one day this week. I needed a good laugh, and I found it. I was watching everything from Friends to The Office to Parks and Rec. I definitely suggest giving The Office and Parks and Recreation bloopers a google. There's some hilarious stuff on there – just know some of them are NSFW. Here are some Seinfeld bloopers for your viewing pleasure.
I'm Looking Forward To:
The weekend!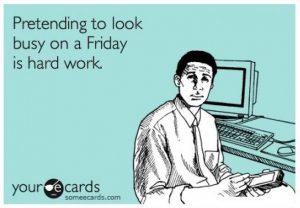 What are your favorites from the week?