Y'all. I know. It's been quite awhile since we've caught up. I feel like I'm saying this in all my posts right now, but I do want to fill people in on what's been going on. My Dad passed away in June, and I've been taking a little time away. Still working behind the scenes, but not really putting myself out there. I'm sure you understand. I am working on a post about all of this (grief, specifically) because it's something that everyone goes through at some point, and something most people don't really talk about. Stay tuned for that. I'm so grateful to each of you that have reached out to me over the past few months. It really means so much to me. All that being said, I've missed you guys and my weekly wrap-up, and I'm ready to get back at it. At least this week. 😉
It's Friday! That means it's time for my weekly wrap-up. This is my chance to tell you about what I've been up to, and what I'm loving this week! You'll see that some of it is nutrition and health related, and some of it is just for fun. Let's go!
What I'm Eating:
Alright, so this one is a doozy, but you know I like to keep it real, so I'm putting it all out there. We were in Georgia for a week with my Dad's passing, and then Chris and I were home for a day and a half before we had to leave for a 10 day road trip for work. The grief and exhaustion during that time led to some bad eating habits, and the party continued for a solid month afterwards. I'm not saying any of this to garner pity, or even to make excuses – I'm just saying when you're tired and sad, eating your emotions is a pretty easy thing to do. I'm sharing this because the struggle is real. Sometimes, we want to Eat. All. The. Things. Sometimes, we choose to give in to that. It was easy at the time, but it certainly had its consequences. I've had headaches, some recurring stomach issues and gained a few pounds. I'm not proud of it, but I'm not ashamed of it either. We do what we have to do to get through it. I reread my posts on mindful eating, and body issues (trigger warning with this one) as a reminder of how I truly feel, what my goals are…really just how I choose to live when I'm thinking clearly and not wrapped up in grief.
I've spent the past several weeks getting myself back on track. It hasn't been as hard as I expected. I think my body was ready for some real, nourishing food. This week, I tried to make sure I was getting plenty of veggies to give my body that nutrient boost it needs. If you're looking for an easy meal, we really enjoyed this one this week. Note that it's not really a recipe as I just threw some things in the crock-pot, but I've put some general guidelines in case you want to try it. You can use any seasonings you have on hand, and omit any you don't have. The green chile is flavor enough on its own.
Green Chile Pork
1.5 – 2 lbs. pork loin (I threw these in whole and then shredded it, but you could also cube them.)
1 tsp. ancho chile powder
1 tsp. chipotle chile powder
1 tsp. garlic powder
1 Tbsp. minced onion flakes (I was out of onion, so dried onion filled in. You could also sub one diced, fresh onion here.)
3 cans green chile (I used one can hot, 2 mild of the 4 oz. Hatch green chiles.)
1 jar of green chile tomatillo salsa (I used a Central Market/HEB version I found, but there are tons of options at most stores.)
Salt and pepper to taste
Place everything in the crock pot and cook on low for 4-6 hours. Once it was done, I pulled the pork apart using two forks, then poured the sauce over the top of it. We served this over some cilantro lime rice, black beans and topped with green onion, cilantro, pico de gallo, etc. Basically, our own version of a Chipotle bowl. This would have been awesome with some cauliflower rice instead, and tons of sautéed bell peppers and onions, too. It was a super easy meal, and didn't heat the house up, which is awesome.
What I'm Reading: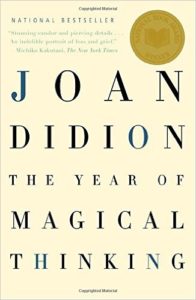 The Year of Magical Thinking by Joan Didion. Okay, so this is a book centered around grief. In this, the author covers the year following her husband's death, but it's also very much a memoir. I appreciated this book because it put into words so many of the feelings that I've been having. It also made me realize that grief is a real thing, we all handle it and experience it in different ways, I'm not alone in the way that I'm feeling and there's no time limit to which grief subscribes. Didion is an incredible writer, and I love her style overall. She takes you to these moments of her life with her words, and it feels as though you are walking through that time and place with her. I've not read any of her fiction books, but I do love her nonfiction. I know it seems weird to recommend a "sad" book, but it gives such incredible insight into grief, and may help you to reach out to someone going through it. Besides that, it's not all sad. There's very much laughter and joy to be found in the pages of this book, and I've found that to be true in this season of grief, as well.
What I'm Watching:
Game of Thrones. I mean, basically everyone is watching this, right? Winter is here, y'all, and it's going to be a rough one. If you don't get HBO, then go subscribe right now, or borrow someone's account password and go watch every single episode – even if you think it's not your kind of thing. It is your kind of thing. I promise.
What I'm Listening To: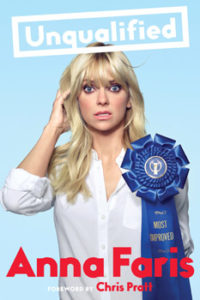 Anna Faris is Unqualified. I know this is typically where I share a song or music I love, but this week, I had to talk about this podcast. I happened upon it quite by accident, and I'm hooked. The basic premise of this podcast is that Anna (you probably know her from various movies and tv shows), and her guests, are unqualified to have a podcast, be on a podcast, give advice or basically do anything. The tagline of the podcast is: Not-so-great relationship advice from completely unqualified Hollywood types. She has a featured guest each week that she interviews, and then they call listeners and give them advice on various life situations. I haven't made it through all, or even many, of the episodes, but a few that I love are with Andy Cohen, Eric Stonestreet and Kristin Chenoweth. If you want some fun, mindless entertainment, this is it. Go give it a listen! You can find it at the links above or on iTunes. She also apparently has a book coming out in October by the same name, and it might be worth the read, too!
What I'm Wearing:
So listen. I know I'm not the only one who has been scouring the Nordstrom sale. The sale ends August 6th, and many items are completely sold out of most sizes, but I did find a few things that I love, and that they carry most of the time, and wanted to share them here. The Hatha High Waist Leggings (gray pictured) and the Keep It Cool Leggings (black pictured) are both great choices. Zella work out wear seems to last a long time, making it a great value whether on sale or not. Limited sizes are available right now in these, but keep your eye out because Nordstrom carries these year round. I find both fit true to size.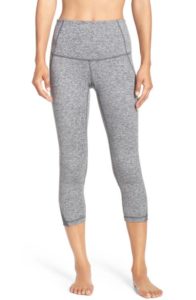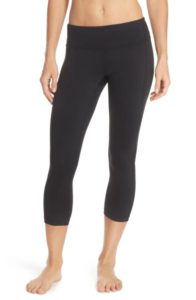 I also really needed a sports bra that fit better than the ones I had. The Zella Impulse Sports Bra fits great, and has a super cute back, too. Sizes and colors are hit and miss on this right now, but it's also a style Nordstrom carries most of the time, so check back after the sale maybe. There are other colors available in this style, and if you do a search for the name, they'll pop up, too.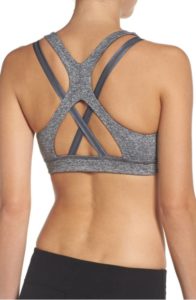 In the non-work out wear category, I got these TOMS Majorca Perforated Suede Booties as a birthday gift from my sweet husband. They aren't part of the Nordstrom Anniversary sale, but they are 33% off. I love these booties. They are super comfortable, and perfect for summer/fall transition weather. In Texas, I'll be able to wear these all the way to December probably. Some of the colors/size combos are sold out, but grab a pair if you can. I chose the natural color, as I like that they will go with anything basically. I also love the side zip detail. Super cute and makes getting them on and off much easier. I would say these run true to size or maybe even a half size big.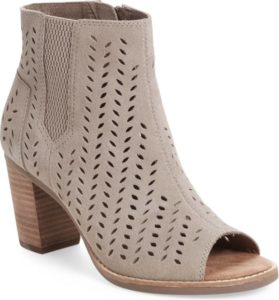 What I'm Loving:
I can't get enough of the colors in the new Beautycounter Ocean & Pacific Palette. This palette has six new eyeshadow shades, along with a bronzer, highlighter and blush. It is perfect for taking your look from day to night, and the colors work on every skin tone (see pic below)! Beyond just the fabulous colors, I love that with Beautycounter, you never have to worry about scary ingredients or chemical exposure. It's safer beauty that is also high-performing. This palette is limited edition, so when it's gone, it's gone…and we always sell out of our palettes.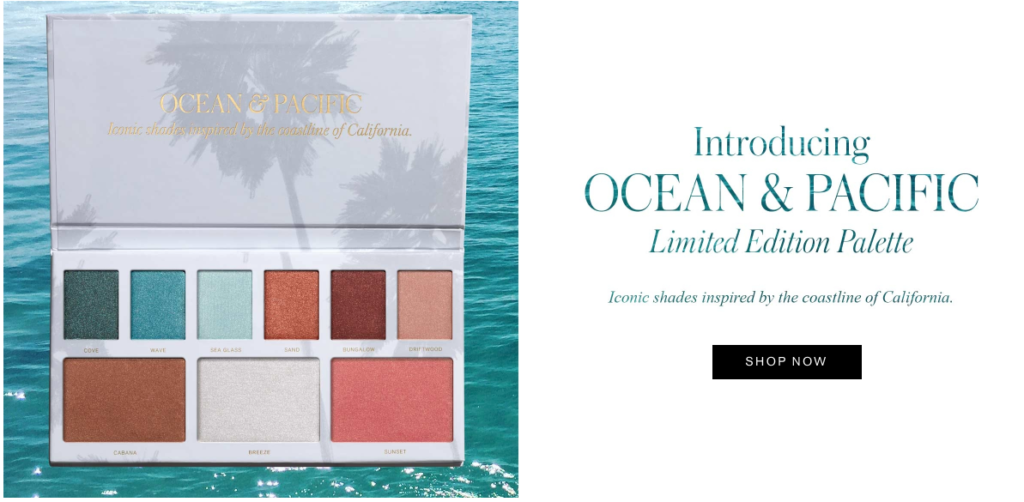 Here's how the eyeshadows look on different skin tones. Gorgeous!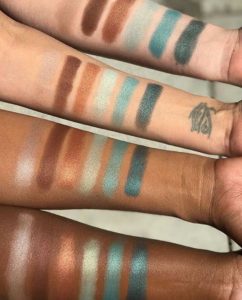 And just in case you need a little extra visual, here's a fun video with just one day-to-night look created with the palette.
I'm Looking Forward To:
Right now, I'm really looking forward to fall weather. I know, I know. We're still months away from that here in Central Texas, but I'm ready for it anyway. Also looking forward to finding a bit more joy and healing in the months to come.
A Practical Guide to Wellness will be back after Labor Day, too! You can read all about the details, and revisit our first six objectives in the link. I can't wait to get back to it!
What are your favorites from the week?