We've made it to my favorite day of the week: Friday! Oh, Friday, I am so happy to see you. It has been a great week, but a busy week. I did something really big this week – and it's just for me. There are few things that I do *just* for myself, and this particular thing makes me really happy. I'm going to share that with you, but I want to give you a little backstory. You know me. This is what I do..
I've talked many times about my love of skin care products. It's not a secret, and if you're a close friend, it's likely we discuss our skin care regimen and favorite products regularly. Ever since my teen years, I've generally had a decent routine when it comes to my skin: washing my face every night and religiously applying moisturizer to my face and neck.

Fast forward to my late 30s. I was stuck, I didn't feel good, I was gaining weight, I was tired. All the things I've discussed before. I didn't care enough about my body to take care of it properly – and so much of that was tied to my trauma – but I had enough pride to want to look my best and to take care of my skin. Around this same time, I had gone back to school for nutrition and was learning more about endocrine disruptors and toxins. I began learning more about skin care products and began investing in products that were both more effective and had safer ingredients.

Skin care truly became the first form of self care for me. I know that might sound crazy, but here's the deal:

I was already washing my face every night. Adding a few products on afterwards wasn't really asking anything extra of myself.
When you're using the right products, you start seeing results. It may not be instant gratification, but seeing those results over time really is satisfying.
It's 5-10 minutes in the day that is just for me. Everyone in the house knows that the few minutes before bed (or whenever I do it in the evening) when I'm taking care of my skin is MY time. It's a few moments to breathe deep, relax and get myself in a good space for rest.
This nighttime routine is a signal to my body that I'm getting ready for bed. It's crazy – I can feel wide awake, and as I go through my little routine, I'll find myself getting more relaxed and feeling sleepier.
It really did start with my skin. It was one thing that I cared about and did for myself. It was the one way I showed up for myself for a really long time. Now that I've found emotional healing, I've found so many ways to show up for myself, but skin care is truly one of my favorite things. I love the science (yes, I'm a nerd) behind it, I love the products, I love the results, I love the connection I find with other women over it, and I love the way it allows me to show love for myself. I make this a whole experience: I found a cute tray to hold all of my favorite products, sometimes I turn on music or light candles, put on a face mask or do an extra treatment. Sometimes I focus on breath or pray while I take extra care to put on my products. It all takes less than 10 minutes typically, but it's a few moments just for me.

I've also mentioned that I "get ready" (read: put makeup on) just about every day. I've pretty much always done this, and it's just for me. I feel better when I get myself dressed and ready. It's a signal to my brain and body to get going. When I started working from home over 10 years ago, I began using that getting ready time as my "commute." It was that in-between time of waking up and actually starting work. I could listen to music or the news, get myself ready and then walk into my living room/office and get to work. Also, even though I was working from home, having makeup on made me feel like I was still part of the real world. Often the rest of my getting ready involves combing my hair and then changing out of pajamas into leggings and a t-shirt. I'm not saying I'm dressed up, or even in jeans, but I put some effort into my appearance every day. Again, this is for me and me alone. Do I feel better and feel like I look better? Yes. Is there a little bit of vanity to it? Most likely. I also like that I look cute for my husband. He doesn't care if I have makeup on, and he tells me all the time how beautiful I am just as I've rolled out bed. He has zero expectation, but I like feeling like his girlfriend, and that means putting in some effort. All that said, it really does make *me* feel good. It's something I've done since I was 12 years old, and I don't see myself changing something I love – for me – anytime soon. 

I also don't think anyone – myself included – needs to wear makeup or do anything special to themselves to feel good or look beautiful. Each of us is beautiful exactly the way we are. I enjoy this routine for myself, the self care aspect, and it gives my days structure. You do you, boo.

I've shared my routine a few times, but it changes fairly often, so I thought I would give an update on what I've been using lately. I really do try to choose safer products, but I also love active ingredients in my products, so there are times that I opt for a product that might not be as safe. I'm not perfect by any means, but I make intentional choices about all of the products I use. I switch up brands and what I'm using regularly, but typically keep a few of these in the rotation at all times.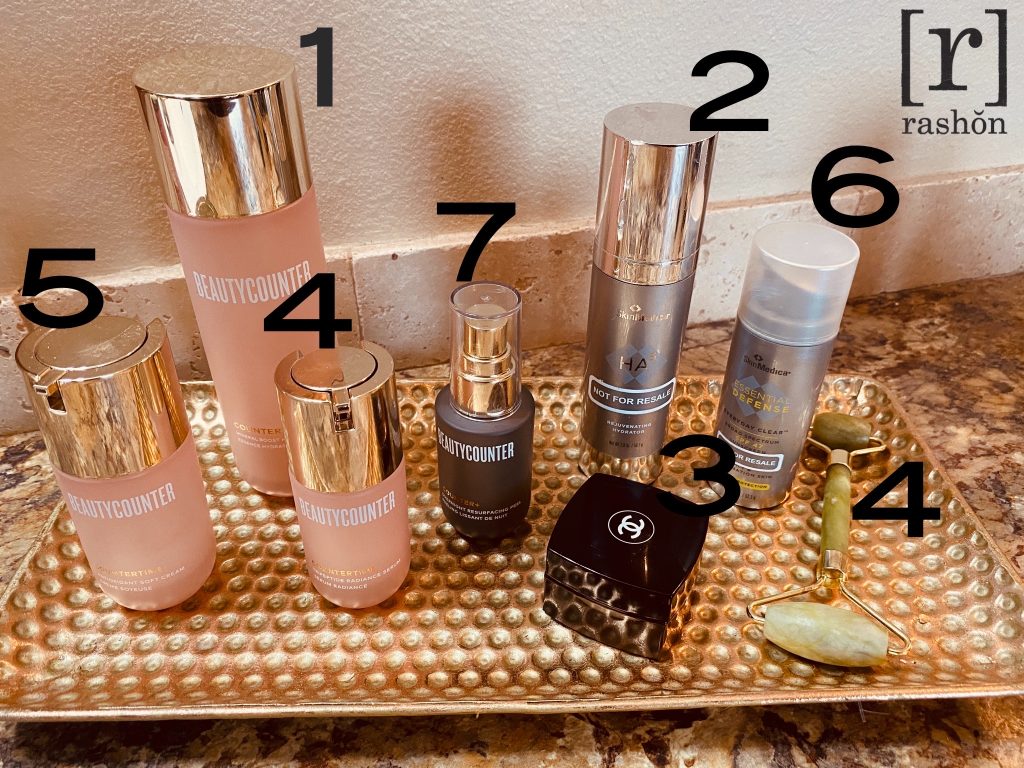 See my cute little tray? That was a Hobby Lobby find, it was under $15 and most definitely on sale. Yes, it's a tray and it makes me happy. It really is the simple things, y'all.

Morning Skin Routine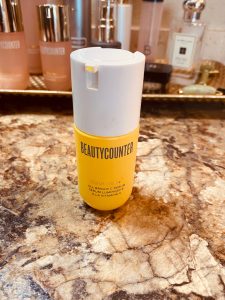 Rinse face with water only.
Beautycounter Countertime Mineral Boost Essence – This product is one of my favorites. This is like a toner step, but more beneficial for your skin. It instantly hydrates, adds a boost of minerals and helps to draw in the products you apply after it. It has sea water in it, and smells like the ocean in the best possible way. My skin instantly feels better after applying this.
SkinMedica HA5 – This was a gift, and I'm almost out of it. I loved this, but will likely find a different hyaluronic acid product that's easier for me to get my hands on once this runs out.
Chanel Le Lift Eye Cream – I bought this on a whim when it was on sale. I really do like it, but don't know that I love it more than any other eye cream. When this is out, I'll find a different eye cream to try. I'm almost always switching up eye creams. I need a lot of help in this particular area. Hello, fine lines, bags, and crows feet. 😉 Eye creams are one of my favorite products to research and try.
Between these steps, I use my jade roller. I can't find the exact one I bought at Target anymore, but I linked an inexpensive option from Amazon. There are tons of options at all price points. I honestly started using the jade roller to try to help with the chronic puffiness under my eyes, but have found it has helped me the most with my TMJ. I've been using it to help massage my jaw, jawline, etc., and I've noticed a significant reduction in TMJ-related pain and jaw locking.
Beautycounter Countertime Tripeptide Radiance Serum – This serum is like magic in a bottle. This has Beautycounter's retinatural complex, which gives you the results retinol without all the side effects of using retinol. It helps with skin firmness and elasticity, fine lines and wrinkles, and gives the skin a radiant complexion. I'm on my third bottle of this, and have been using it for about 9 months or so. I think this one has earned a permanent (read: for now) spot in the rotation. 
Beautycounter Counter+ All Bright C Serum – I've never used a vitamin C serum before, but I'm pretty much sold on this one. The active ingredients in this help to reduce the appearance of dark spots, prevent new ones, and combat environmental stressors on the skin. This serum immediately makes your skin glow. I'm still using my first bottle, but will definitely be getting this one again.
Beautycounter Countertime Antioxidant Soft Cream – If you've ever heard of La Mer, and desperately wanted to try it, but couldn't justify the price, 🙋‍♀️ this is your answer. This soft cream also contains the retinatural complex, so you're getting those wonderful retinol results without the side effects. I've noticed my skin looking brighter and smoother, with a more even complexion. I"ve also noticed a little more firmness in my skin. I love this soft cream. 
SkinMedica Sunscreen – This was also a gift. I have loved it, but when it runs out, I'll get a different sunscreen that is easier for me to get. In general, though, I always wear sunscreen. My tinted moisturizer also has sunscreen, so sometimes I will skip the extra application – it usually depends on how much I'll be outside in the morning. I always try to reapply sunscreen before going outdoors in the afternoon.
Nighttime Skin Routine

For nighttime, some of the products are the same, but I also alternate different products every other night.

Every other night, I skip most of the products above, and use Beautycounter's Counter+ Overnight Resurfacing Peel. This may legitimately be one of my favorite skin care products of all time. This peel is super gentle. I've noticed clearer skin, more even complexion, and much brighter skin overall. I always put on an eye cream with this. Sometimes I'll use the Antioxidant Soft Cream as well – it just depends on my mood. 

Since makeup is also a part of my routine, here are the few basics that I always have in my bag: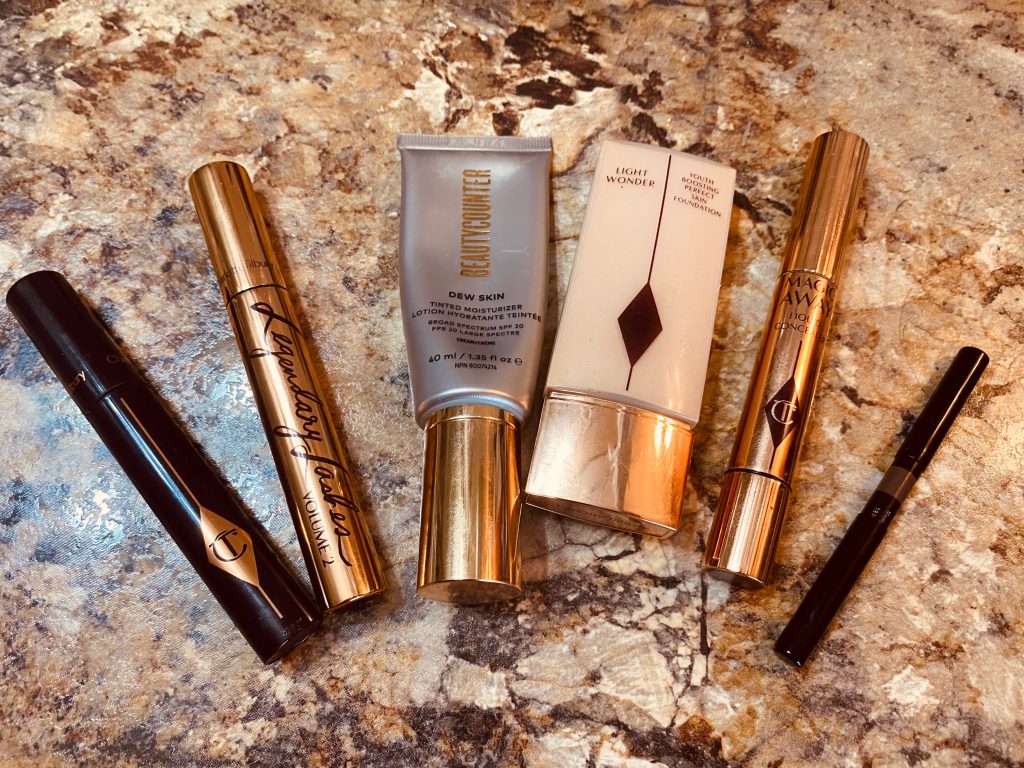 From left to right,

Charlotte Tilbury Full Fat Lashes – I put a layer of this mascara on, and follow it with a layer of…
Charlotte Tilbury Legendary Lashes Volume 2 – This is layer two of my mascara. I like how the combination of the two works for me – it gives me volume and length. A lot of mascara makes my eyes burn and water due to the chemicals found in it, but these have pretty safe ingredients and don't irritate my eyes.
Beautycounter Dew Skin Tinted Moisturizer – I absolutely love this tinted moisturizer. It has SPF 20 mineral sunscreen (it's safe!!), and is packed with vitamins and oils that leave your skin looking brighter and firmer. It has a sheer coverage, which I love for everyday wear. 
Charlotte Tilbury Light Wonder Foundation – When I want a little extra coverage, I opt for this foundation. It's still light coverage, but it's perfect when I need to have a little extra makeup on for the day or for a night out. Obviously, there aren't many nights out happening right now. Ha. 
Charlotte Tilbury Magic Away Concealer – This is one of my favorite concealers. It has really good coverage, goes on smooth and blends in well, and the applicator is really useful/helpful.
Beautycounter Color Define Brow Pencil – I use this every day, and the brow pencil lasts me for at least 6 months. I love that it has a brush on one end. I also like the brow gel from Beautycounter, but haven't been using that consistently.When it comes to blush, eyeshadow, and lip gloss/lipstick, I typically rotate in all different brands. In general, some of the brands I like most for makeup are Beautycounter, Charlotte Tilbury, and Bobbi Brown. 
Now on to my big news. Y'all, I'm so excited for myself that I can't even stand it!!! EEEKKKK! 

I am working with Beautycounter as a consultant again! (Full transparency: You can click that link to check out all of the Beautycounter products mentioned above or shop with me. Product links above are just general links, and I don't make any commissions or affiliate payments off of those links.)
I can't even believe it. I was a consultant three years ago, and decided to stop when other life things got in the way. I've faced many challenges over the years, but the last 3 years have been a true journey. I've found healing from trauma, and healing from chronic illness, and in that discovered myself again. I'm becoming the truest version of myself, and finding ways every single day to show up for myself and to learn to love this body again.
I'm in the process of re-launching rashon and A Practical Guide to Wellness, I'm working a full time job as a nutritionist and project manager, and I have some major goals for myself and my family. I'm busy, and have no plans to slow down anytime soon. I've got places I'm headed.
My goal is to empower women to deal with their emotional baggage, find healing (emotional and physical) and choose to honor their mind, bodies and souls each and every day – to be accountable to themselves each day. By doing so, women can change the world.
Beautycounter's mission fits right along with that. Choosing safer products, choosing to take time to care for yourself, your body, your skin – taking time for yourself is so important. Their mission is to get safer products in the hands of everyone. Beautycounter educates about safer products and works to bring real change to the industry. Beautycounter executives and consultants from all over the country have gone to Capitol Hill to push for real change – and they've succeeded! Beautycounter empowers women to have businesses of their own, find purpose, and find community. If that's not a good fit for me, then I don't know what is.
Skin care was truly my first form of self care. When I didn't have the bandwidth to care for myself in any other way, I still washed my face every night and put on my skin care products. It was the first thing I truly did just for me, and it started a habit of choosing to do things just for me. Small changes add up to huge results, and I'm seeing those results in my life every day. Skin care is not only self care, but I enjoy it – the science behind it, the results you see from consistency, the pretty packaging, and fun products. I love it all. Rejoining Beautycounter is something I'm doing just for me. Yes, it fits in line with my own mission, but more than that, being a part of this company, and having a reason to talk about skin care is about me and my own joy. If along the way, I get the honor of helping other women take care of themselves in this way, then that would just add to the joy. I really am doing this for my own love of skin care, what this mission means to me, and I'm following my heart. I want to make lasting change in this world, and this is a great place to start.
I'll be sharing about the products I love, whether they be from Beautycounter or other brands, and I'll be talking about ways we can make real change in our homes and in our communities. If it's not your bag, just scroll on by. If you have questions about products or Beautycounter's mission, I'm always here to help. I have no idea where this is all going to take me, but I'm sure as hell happy that I keep choosing to show up for myself. I can't wait to see what's next.
As always, here is the song for the week. Go have yourself a little dance party!
Love you all.