It's Friday! That means it's time for my weekly wrap-up. This is my chance to tell you about what I've been up to, and what I'm loving this week! You'll see that some of it is nutrition and health related, and some of it is just for fun. Let's go!
In Case You Missed It: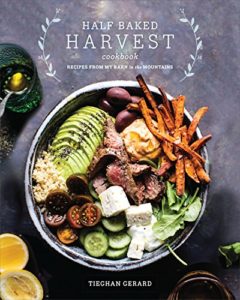 What I'm Reading:
Half Baked Harvest Cookbook: Recipes from My Barn in the Mountains by Tieghan Gerard. You all know that I love a good cookbook, and I read them cover to cover just like a regular book. I spotted this book in a cute store called Gather during a day trip to Waco a few weeks ago. (If you are in Waco, you must visit this store!) Based on the cover alone, I couldn't pass it up, but the entire book is just gorgeous. It is filled with unique recipes that will inspire you, and get you out of your food rut. Now, I have to add this caveat: Not every recipe in this book is things I would normally eat in terms of clean eating; however, we all need a treat or to celebrate every now and then, and there are plenty of healthier recipes to be had in the book. Like I said, there's so much inspiration to be found in these pages, and the photos are incredible. If you're a cookbook lover or just need some new ideas in the kitchen, I'd highly recommend grabbing yourself a copy.
What I'm Watching:
Real Housewives of New York City. I couldn't help myself. I had to discuss a bit of what's going on this season. For those of you who don't watch, you really should be, but feel free to scroll past this. I have to start by saying Dorinda is my absolute favorite. She might fly off the handle occasionally, or get so drunk no one knows what she's actually saying, but she is always a good time. She may have overreacted to Sonja at that brunch, but I am here for it. Speaking of Sonja (insert head in my hands emoji here), bless her heart, she is cuckoo for cocoa puffs. I don't know what's going on with her, but it's really unfortunate. Her riding that bus out to the Hamptons may be one of my favorite scenes ever, though. I love that Tinsley is standing up for herself this season, and I'm enjoying her much more this time around.
I know that Bethenny is a lot, and she may be a terrible person to be around, but she's also done a lot of good in the past several months for Puerto Rico. I still love her, and I'm sad that she and Carole broke up. (By broke up, I mean they aren't friends anymore.) I'm positive Bethenny is a terrible friend, but they balanced each other out. As for Carole, I am so impressed that she ran the NYC Marathon – and that whole scene when she crossed the finish line made me super teary eyed. I was not impressed by her tattoo bodysuit, though. Her fashion choices leave much to be desired. LuAnn is LuAnn, but I love that we're done with Tom, and she seems much more like herself this season. I almost forgot Ramona. I don't know what to say – I've sort of lost interest in her. Okay, so that's my take just a few episodes in. Here's the season trailer for those of you who don't watch. And again, you really should.
What I'm Listening To:
4 Non Blondes – What's Up. Because I need a good dose of the '90s this week. Ahh…memories..
What I'm Wearing:
I've got an order of shirts coming from Gap in the next few days, so I can't wait to try them on, and see what I think. I'll let you know next week! In the meantime, this BP. Raw Edge V-Neck Tee has been on repeat around here. It has the perfect fit, and is so easy to dress up a bit with jewelry and some wedges, or looks great with skinny jeans and Converse. I will be wearing this one all summer long. It comes in black or white (You guys know which one I chose. Haha.) and fits true to size. Plus, it's only $17. You can't beat that.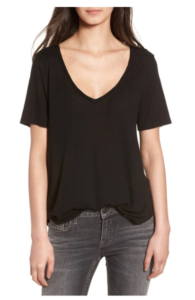 What I'm Loving:
So this may be super random, but I've been obsessed with the Lemon Lime Schweppes Sparkling Water. My sister told me a few months ago that I had to try these, and she was so right. I don't do sweetened beverages, so this is perfect. It's super carbonated – which I love – and the flavor is great. There are several different flavors to choose from, and while I haven't tried the others because I'm a lemon-lime kinda girl – my sister says they are all great. If you're looking for a non-soda option (because don't drink sodas, people), these are worth trying!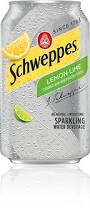 I'm Looking Forward To:
I've got a pretty big birthday coming up at the end of May. I've been dreading it honestly, but just this week, my attitude has shifted. I'm actually looking forward to it. More on that soon. 😉
What are your favorites from the week?
SaveSave