Hey, everyone! We're kicking off our 6th objective today! Can you believe it? I know so many of you have been working on making small changes that add up to HUGE results in your overall health, and I am so proud of each of you for doing the work! Don't forget to keep up the work you've already done, and add in this new objective.
Objective #6: Switch to Safer Deodorant
Timeframe: 2 Weeks
We're headed into the summer months, and we're all sweaty and stinky here in Central Texas (well, we're probably not sweaty and stinky all the time, but you get what I'm saying), so I thought this would be the perfect time to discuss deodorant. The problem with most mainstream deodorants is that they are filled with chemicals that aren't so great for our bodies.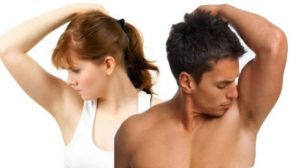 In most conventional deodorants and antiperspirants, an aluminum compound is the main active ingredient. For example, in Secret and Degree deodorant, the active ingredient is Aluminum Zirconium Trichlorohydrex Glycine. That sounds like something you want on/in your body, right? The problem with aluminum is that it is linked to Alzheimer's and some cancers, including breast cancer. Not to mention that aluminum is a metal and can lead to heavy metal toxicity in the body. Deodorants are also laden with hormone disrupting chemicals like parabens and phthalates, which mimic estrogen and are linked to a plethora of health issues.  You can read my posts about Endocrine Disruptors for more information on why you want to avoid these chemicals in your deodorant, cosmetics and personal care products. The short list is that these chemicals can cause early puberty in girls, premature delivery, impaired sperm quality and sperm damage in men, genital defects and reduced testosterone production in boys, genital defects and testicular cancer. There are even studies showing that phthalates are linked to obesity.
Now listen, many of these studies show some inconclusive results, but the fact that there's even a chance that these chemicals are linked to any of these issues is enough to keep me away from them. Think about this: It takes 26 seconds for our skin to absorb whatever we put on it. 26 seconds! That's potentially a lot of chemicals being absorbed into your body really quickly. Also remember that the term "fragrance" is a generic term that companies can use to describe a mixture of hundreds, if not thousands, of chemical compounds. Now consider that you're putting deodorant on your underarms every. single. day. This is a big source of chemical exposure, and one I have personally chosen to avoid!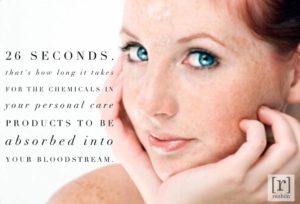 Your Objective: For the next two weeks, work on finding a safer deodorant in order to limit chemical exposures.
A few tips to keep in mind:
You want to avoid aluminum, and aluminum compounds of any kind.
It is best if you can also avoid parabens, phthalates, "fragrance", and petrochemicals (PEGs, propylene glycol).
Know that every body is different, so it may take a few tries to find the safer deodorant that works for you.
Sometimes when you switch to safer deodorants, your armpits actually detox. They might be red or sore for a few days after you stop using the chemical-laden deodorant. If you find that the redness doesn't go away, it may be the new deodorant causing a reaction, and it's time to try something different.
If you have teenagers at home, don't forget to help them switch their deodorant, too! Remember that their bodies are particularly sensitive to hormone disruption from chemical exposure.
You also might notice that when your body is allowed to work the way it's supposed to, without chemical interference, you don't actually smell so bad! It's amazing how much the body can do on its own when we don't interfere.
Here are a few brands you can try (there are a TON of options out there, so just do your research):
Again, there are tons of options for safer deodorants, and if you are an email subscriber, I'll be sharing some additional info in the newsletter. Remember that it may take a couple of tries to find the deodorant that works for you, but it's worth it to cross that additional chemical exposure off the list!
You can join my Beautiful Balanced Life Facebook group for more information on safer products, and living a healthier life. We have so much fun in this group, and I'd love for you to join! Just click the link to ask to be added.
Don't forget that if you are an email subscriber, you get extra resources and bonuses, so if you haven't signed up for my email list yet, do so now! It's not too late!
Follow me on Facebook, Instagram and Twitter over the next two weeks for additional info to help keep you on track and working towards your goal!
Tell me: Do you use a safer deodorant? Which brand is your favorite?
Disclaimer: The information provided on this website is for educational purposes only. It is not intended to treat or diagnose any health condition. Please consult a doctor, healthcare professional or a Nutrition Consultant for information specific to your health needs.