Okay, I know that Brussels sprouts are typically a love 'em or hate 'em veggie. I happen to love them. Brussels sprouts are a common side dish at holiday gatherings, so I thought it would be fun to learn more about them as we head into the holiday season. Like I say with everything: if you think you don't like Brussels sprouts, I encourage you to try preparing them a few different ways. You never know, they might just end up being a favorite!
Brussels sprouts developed from wild cabbage, and resemble miniature cabbages. They grow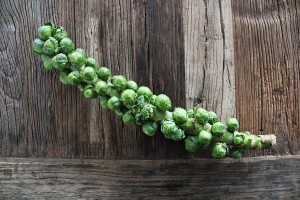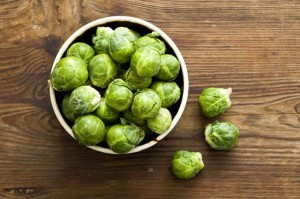 underground in bunches of 20 – 40 on the stems of plants that grow to be as high as three feet tall. They are typically sold in bags of separate sprouts, but they can oftentimes be bought on the stalk as well.
Brussels sprouts are an excellent source of folic acid vitamins C and K and beta-carotene. They are packed with vitamin B6, thiamine and potassium, and are a good source of fiber. Brussels sprouts also contain cancer-fighting phytochemicals called glucosinolates. Studies have shown a correlation between a diet of regularly consumed Brussels sprouts and a decrease in DNA damage. This is significant as mutations in DNA often lead to the development of cancerous cells.
Brussels sprouts can be eaten raw or cooked. Those with hypothyroid conditions should cook Brussels sprouts and other cruciferous vegetables before eating. To prepare, Brussels sprouts should be washed, any loose or yellow leaves removed, and the stem end trimmed off.
How to Incorporate: Brussels Sprouts
Slice raw Brussels sprouts thinly or grate and add to salads or slaws.
Sauté halved Brussels sprouts in olive oil or butter over medium heat for about 15 minutes, or until tender. Add a splash of apple cider vinegar in the last few minutes of cooking to add a little acidity to punch up the flavor.
Roast in the oven alone or with your favorite combo of vegetables.
Toss halved Brussels sprouts into your stir fry mix for a twist on your favorite asian-inspired dishes.
Grill the sprouts for a delicious side dish.
Add them to soups and stews.
Use them as pizza toppings with bacon and blue cheese.
Toss Brussels sprouts with balsamic vinegar and roast them, or create a balsamic reduction and use as a sauce after cooking.
Add bacon, dried cranberries and pecans to roasted Brussels sprouts for an easy side dish
Roast the sprouts and top with grated parmesan, asiago or blue cheese.
Balsamic Roasted Brussels Sprouts (serves 6)
1 1/2 pounds Brussels sprouts, trimmed and cut in half
4 ounces pancetta, diced
1/4 cup extra virgin olive oil
juice of half a lemon
kosher salt and freshly ground black pepper, to taste
salt and pepper to taste
2 Tbsp. high-quality, syrupy balsamic vinegar
Directions
Preheat the oven to 400 degrees.
Place the Brussels sprouts on a sheet pan, including some of the loose leaves, which get crispy when they're roasted. Add the pancetta, olive oil, 1 1/2 teaspoons salt, and 1/2 teaspoon pepper, toss with your hands, and spread out in a single layer.
Roast the Brussels sprouts for 20 to 30 minutes, until they're tender and nicely browned and the pancetta is cooked. Toss once during roasting.
Remove from the oven, drizzle immediately with the balsamic vinegar, and toss again. Taste for seasonings, and serve hot.
Variations: Use 4 ounces of bacon, diced. Add in dried cranberries and pecans during the last 5 minutes of cooking. Omit the balsamic vinegar and top with grated parmesan. Add diced butternut squash to the pan and roast with the Brussels sprouts.
This is a delicious recipe that is perfect as a holiday side dish! It is easy to double or triple for big crowds, and one of those recipes you can make your own by adding in different ingredients.
Do you like Brussels sprouts? Will you be incorporating Brussels sprouts into your diet?