It's Friday! That means it's time for my weekly wrap-up. This is my chance to tell you about what I've been up to, and what I'm loving this week! You'll see that some of it is nutrition and health related, and some of it is just for fun. Let's go!
What I'm Eating:
This week has been more of the same in terms of food. I've had a stressful few weeks which means my body really wants starchy carbs, but starchy carbs really don't love my body back. I've been trying to keep my meals balanced, and carbs in the form of crunchy veggies and less starch. I've decided I really need some new meal inspiration, so in this coming week, I'm going to use my Pinterest page for meal planning, and change things up a bit. I have tons of healthy recipe options pinned, so if you're looking for meal ideas, be sure to follow me there!
What I'm Reading:
I should maybe just remove this category from the wrap-up for awhile since it appears I won't be reading anything new anytime soon. In the meantime, I will keep sharing some of my favorite reads from the past.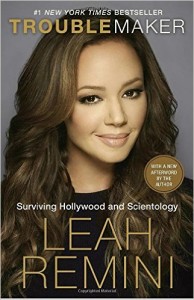 Troublemaker: Surviving Hollywood and Scientology by Leah Remini. I read this book exactly a year ago on a trip to NYC with my sister. It was a great plane read. Here's the deal, I'm not going to sit here and tell you this is the best book I've ever read. It's most definitely not. However, the subject matter is one of the most fascinating things ever. This book is basically a timeline of Leah Remini's life, much of which included her being a member of the Church of Scientology. She is open and honest, and spares no details about scientology and her life as part of that church. She also tells some pretty great stories about Tom Cruise, so there's that. It's a decent read that will leave you questioning so much about the celebrities involved in Scientology. Side note: if you haven't watched the HBO documentary, Going Clear, you should check that out too. I have no idea why I'm so fascinated by all of this, but I am.
What I'm Watching:
I actually didn't watch much tv this week. I had a super busy week wrapping up some pretty big things, so tv just wasn't on my radar. Election night was pretty much the only exception. ?
What I'm Listening To:
Just a reminder that I told you I listened to a variety of music genres, so there's no telling what's going to pop up each week. Here's a song that showed up in my playlist. I mean, what's better than Jack White + Adele?!?
What I'm Wearing:
Gap skinny jeans were no longer cutting it for me, so I've been on the hunt for some ankle length skinny jeans that would fit properly and not lose their shape. I have never tried Levi's, but their skinnies ended up being exactly what I was looking for. Buying the 32″ inseam made them the perfect ankle length – and 30″ probably would have worked, too. These will be perfect for fall boots and booties! The 710 FlawlessFX Super Skinny Jeans are my new favorites. I chose the Smoke Signal (a definite grayer-than-blue, but still a little blue) color, but they have lots of washes to choose from. I would say these fit true to size.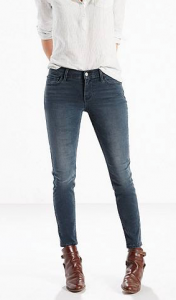 The other pair I tried is the 711 Skinny Jeans. I chose the Daytrip color, but there are 20+ washes to choose from. These fit just a bit looser than the 710s, but are still a great skinny jean. These also fit true to size.

What I'm Loving:
I really debated whether to include this in my post, and ultimately decided that I wanted to share my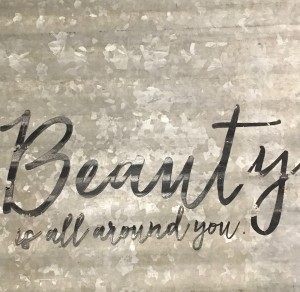 thoughts. This was a big week for our country. Many of us are still reeling from the election and what it could mean for each of us, as well as for America. I just want to say this: No matter which side you are on, or who you voted for, this is the time to stand together. We need to love each other, pick each other up, treat each other with kindness, stand up for what's right, stand up for those that have been marginalized or set aside – show love to our fellow mankind. I believe that love wins over hate, and no election can change that. No election or President can dictate how we act, or how we treat others. No President can determine our personal values, who we choose to love or what we know to be right and true. We can always choose love, kindness and standing up for truth and justice.
While I didn't really love what happened this week, I love that we can choose to be loving, gracious, compassionate people. We can get involved in our communities and do good for others. We can stand up for what we believe in and make our voices heard. There's a lot to love – we just have to be willing to see it.
What I'm Looking Forward To:

I hit a pretty big milestone this week, and I get to celebrate that with the people I love next weekend! I really couldn't have done this without the support and encouragement of my friends and family, so I'm really excited to celebrate with them, and honor them as well. That's all I'm going to say about that.
I've also got a fun brunch planned this weekend, and my friends and family are getting to preview and sample the Beautycounter Holiday Gift Sets. I know I keep bringing these up, but they are so pretty, and the easiest way to shop this holiday season! I will be doing a fun gift guide in just a few weeks if you need more shopping ideas for everyone on your list.
What are your favorites from the week?
Disclosure: I am a Beautycounter consultant. Beautycounter's mission is to get safer products into the hands of everyone. I only promote products that I believe in, and that I know work well and meet my own high standards. Purchasing through the link above provides me with a small commission. Thank you for your support!