It's Friday! That means it's time for my weekly wrap-up. This is my chance to tell you about what I've been up to, and what I'm loving this week! You'll see that some of it is nutrition and health related, and some of it is just for fun. Let's go!
What I'm Eating:

If you're reading this, and you're in Central Texas, or the South, or just about anywhere in the country, it's still HOT outside. We're still craving lighter meals and salads. This has been a busy week, so our meals have been quick and easy. I'll be honest, there isn't too much exciting happening in terms of food here, but I'll share a few things we've been eating:
turkey lettuce wraps (I do these a lot and avoid the gluten-free bread) served with veggies and hummus
salads with radishes, cucumber, tomatoes, carrots, avocado, bell peppers and either turkey lunch meat or leftover chicken. I like to top my salads with hemp seeds for texture, and for extra omegas and protein. I'm still on my Tessemae's Green Goddess dressing kick. It's good on everything. Remember that salads are a great way to empty out your fridge – use whatever you've got!
salmon cakes with dill sauce and lemon-dressed greens (recipe coming soon!)
steak with a salad of cucumber, tomatoes and avocado
chicken with rosemary roasted potatoes and a green salad
What I'm Reading:

I'm right in the middle of a book right now, and have lots of thoughts about it, so I'll be sharing that soon. In the meantime, I came across this quote, and it really spoke to me on so many levels with where I'm at in my life.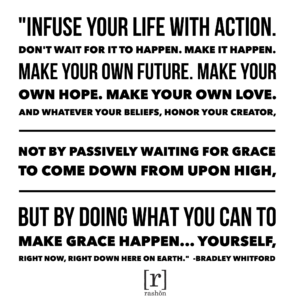 What I'm Watching:
Billions. This is on Showtime, and it is SO good. Paul Giamatti plays a US Attorney who has it out for Damian Lewis (you might remember him from Homeland – which we've still not watched all of, and are in season 1 of that, I think. I know.), who is a billionaire hedge fund manager. Their wives are played by Maggie Siff and Malin Ackerman, respectively, both of whom I love, and they play super strong female characters. I LOVE the women in this show. Billions has lots of suspense and twists and turns, and the relationships in it are all interconnected and totally jacked up. It's the best. I highly recommend it. We just wrapped up season 2, and can't wait for season 3 to come out! Here's the series trailer for your viewing pleasure:
What I'm Listening To:
Hall & Oates – She's Gone. Y'all, I have no idea what this video is (oh, YouTube, you have everything), but it's full of scenes of Pam Grier, and I figure you can't go wrong with that. If you haven't been in Chris' presence when this song comes on, you are missing out on one of life's greatest treasures. That's all I'm going to say about that. 😉
What I'm Wearing:
I have to share with you a few of my favorite Stella & Dot jewelry pieces that I've been wearing on repeat! If you are interested in any of these S&D pieces, or love anything else you see, let me put you in touch with my sister-in-law, Stephanie. She is an AWESOME stylist and can help you pick the perfect pieces for you. She also has the most fun Facebook group, so if you aren't a member already, head over to her Style Lounge and join! They recently had a whole new line launch, so there's tons of new stuff. Here are a few of things that I ❤️ from my most recent order.
Luxe Stud Pack. Both of these pairs have been on rotation. They go with everything, and are the perfect thing to throw on to dress up a tee, or look great paired with a nice dress!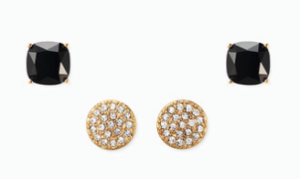 The Ansley Cuff and the Pave Wishing Bracelet have quickly become two of my favorite pieces. They are perfect for layering, or look great on their own. Again, you can dress up a simple tee and jeans, or pair them with a nicer outfit/dress for a polished look. Also, the wishing bracelet (there are several styles and metals to choose from) is only $19. These are perfect to stock up on for gifts!
Jaya Tortoise Cuff. Okay, so I don't actually own this, but it's on my wishlist. I've seen this cuff in person, and it is gorgeous. Trust me, you want this one, too.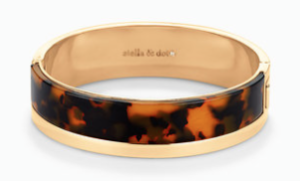 Tiered Lariat Necklace. I have been loving this necklace in rose gold. It's actually two necklaces, so you can wear them together or on their own. I love the versatility of Stella & Dot pieces like this.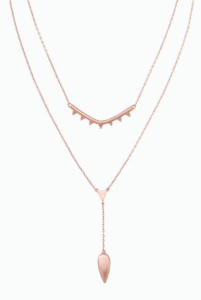 I could do an entire post on all the pieces I love. Every time I look on the website, or through the lookbook, I end up with more items on my wishlist! Go take a look around the site – there's so much to love! And if you want me to put you in direct contact with Stephanie, just let me know!
What I'm Loving:
I am LOVING all the back to school pictures in my social media feeds. Seeing my stepsons, niece and nephews, and my friends' kiddos growing up, answering those fun back to school questions, looking adorable – it just makes my heart happy. It's a little bittersweet, I guess, seeing everyone grow up, but I'm just so excited for all the fun and adventure that lay ahead for each of them.
I'm Looking Forward To:
Mostly I'm looking forward to cool temperatures, and fun fall activities. We've also got some plans brewing around here, and I'm excited to see what happens next.
What are your favorites from the week?