It's Friday! That means it's time for my weekly wrap-up. This is my chance to tell you about what I've been up to, and what I'm loving this week! You'll see that some of it is nutrition and health related, and some of it is just for fun. Let's go!
What I'm Eating: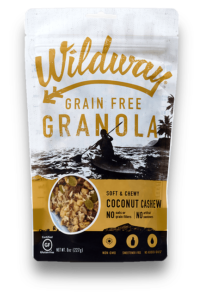 I am currently obsessed with the Wildway Grain-Free Granola. I have been getting the Coconut Cashew flavor, but it also comes in Apple Cinnamon, Banana Nut and Vanilla Bean Espresso. So here's the deal, this is still somewhat carb-y, but it's about half the carbs of typical granola with oats. It also has very few ingredients, no added sugars or sweeteners, and everything in it is REAL. That's a win in my book. It is delicious with a little greek yogurt or over berries or just as a little snack. If you have this, I would definitely stay within the serving size of 1/4 cup – and I wouldn't overdo it if you're trying to lose weight or eat lower carb. My serving size is about two tablespoons – I don't do the full serving, and I don't eat it every day, either. It's delicious, and a nice little naturally sweet treat. I found this at my local HEB, but a lot of stores carry it, and you can also buy at several places online.
What I'm Reading: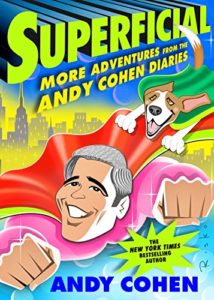 Superficial: More Adventures from the Andy Cohen Diaries by Andy Cohen. I mentioned last week that I'm doing some research for a new project, so that is consuming most of my reading time these days; however, I didn't want to just leave it at that. Several months ago, I read Superficial, and LOVED it. I love me some Andy Cohen, and most anything on Bravo, so this was right up my alley. The gist of it is that Andy keeps a diary each day of what he's done, who he's seen/talked to, who he had dinner with, the details of his vacations…basically chronicling his life for a year. (Note: this is the second diaries book, and the first was just as great.) If you love a look into the daily of life of a celebrity, want some additional celebrity dirt or just like knowing other peoples' business, then I'm telling you that you will love this, too! Seriously, where are you going to read about Andy, Kelly Ripa, Sarah Jessica Parker, Dolly Parton, Anderson Cooper, Diane Von Furstenberg and so many more people all in one book?!? It's such a fun and quick read, and perfect for when you're on vacation or traveling! Also, Andy, if you happen to read this (I'm kidding, people – there are like seven of you reading this, and none of you are Andy Cohen), give a girl a call!
What I'm Watching:
Real Housewives of Beverly Hills. Since I'm already talking Andy Cohen, I figured I might as well talk a little about the Housewives. I think that 3.5 of the 7 of you reading this are Housewives fans, too, so be sure to share your thoughts with me! If you are not a Housewives fan, you should be. What could be better than watching wealthy women being forced into social situations with other wealthy women who may or may not actually be their friends?!? I hate drama in my own life, but I sure love watching other people's. I also watch New York, Orange County and (some) Dallas. Okay, so back to Beverly Hills. It's honestly a toss up between BH and NY for me. I love, and love to hate, all of them. Haha.
I'll be honest, I'm in serious dislike with Dorit. I didn't like her last season, but this season is even worse. She is beyond pretentious, and where Lisa Rinna left off with the shiz-stirring, Dorit picked it right up. Also, if I have to hear her name drop Boy George one more time, I might lose it. We get it: Boy George lives at your house for reasons still unknown (despite your many attempts to explain it), and you trot him out a couple of times each season for random cameos. Also, she refers to Boy George as Boy George at least 99.3% of the time. If they are so close, wouldn't she just call him George? I suppose that doesn't work for the name drop. Ugh. Can we please just bring Camille back and let Dorit go?
How do we all feel about Teddi Mellencamp Arroyave? She's the new wife this season, and yes, she's the daughter of THAT Mellencamp. I know she's not the most exciting Housewife in the history of Housewives, but I like that she's just herself, and she tells it like it is. She doesn't start drama for the sake of starting it – she just states her feelings or states what happened. I like her. I will especially take her over Katherine or Eileen any day.
Just to round things out, LVP and Kyle will forever be my favorites, and I am a Lisa Rinna apologist. Erika Girardi (Jayne) is still high on my list, too, although, I wish she would let those walls down a bit. Okay, so I guess that's enough of me dissecting this whole situation. If you don't watch, or even if you do, here's the Season 8 (currently airing) trailer. Also, if you aren't watching, just go do it. It's the best distraction from real life ever.
What I'm Listening To:
May I Have This Dance feat. Chance the Rapper by Francis and the Lights. This song has been on repeat the past few weeks. It has been in my workout mix, my get up and dance for a few minutes song, and on my driving playlist. Give it a listen.
What I'm Wearing:
Perhaps you don't actually wear a clutch, but I am obsessed with this Bellamy Clutch from Stella & Dot. Camo is everywhere right now, and this is such a fun way to have a little camo, and give any outfit a little edge. It's such an easy bag to pair with jeans and a sweater or tee, and instantly completes the look. The inside has the CUTEST floral print, too. As always, I'm linking to my sister-in-law, Stephanie – she is such an incredible stylist, and would be happy to help you find exactly what you're looking for!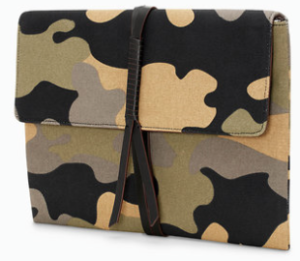 What I'm Loving:
Alright, so this may qualify for the what I'm watching category, but I am loving Busy Philips' Instagram stories – you know her and love her from Freaks and Geeks, Dawson's Creek and Cougar Town. She is so real and funny, and they're just entertaining to watch. She recommended following Oliver Hudson (son of Goldie Hawn, and brother to Kate), so I'm watching his stories as well. The best part is that he often makes fun of Busy's stories (so watch hers first just in case), and his kids are hilarious, too. If you're on Instagram, and wanting some entertainment, go check 'em out.
I'm Looking Forward To:
Save the Date!! I'll be teaching a nutrition class in Austin on the evening of April 25th. More details to come, and a link for tickets, but mark your calendars and plan to join us!
What are your favorites from the week?
SaveSave