Y'all, this is my favorite time of year! I love everything about the holidays, and to celebrate, I'm doing something a little different this week. I'm sharing some of my favorite gift ideas. You'll find something for everyone in the list below. If you have a fun gift idea, please share it in the comments section!
Host/Hostess Gifts
The holidays means lots of parties and gatherings, and if you're like me, you're always looking for a great hostess gift. Here are some great gifts that are sure to make any host happy. (Let's face it, these would make anyone on your list happy!)
My sister-in-law and I spotted these super cute plates at Target over the weekend. These would make such cute jewelry plates/trays! I couldn't find them on the Target website, but my sis-in-law took this picture of them. They are the cutest navy and gold plates (I know they look black in the picture, but they are navy), and would be perfect for anyone. We found these in the seasonal designer home decor section. The best part? They are only $4.99 each, but look super chic!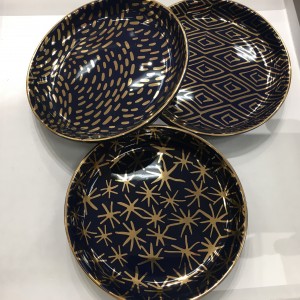 I'm a sucker for a coffee mug of any sort, but the holiday mugs from The Sister Studio on Etsy are awesome! These would be such a fun gift, and you could fill with your favorite coffee beans, herbal tea bags or a gift card to your favorite local coffee shop. These are just a few of my favorites, but there are so many great things to choose from. The mugs are all around $16.99 each.

I love stationery – anything paper, pens, notecards, cute office organizers, etc., and think any of these make such nice gifts. This is often something people won't buy for themselves, which is even better. I saw this Deco-Gilded Journal in Anthropologie a few weeks ago, and have been thinking about it ever since. It's the perfect size for carrying in your purse or work tote, but also great for keeping on your desk/night stand for notes. The Anthropologie website has so many great paper/stationery/office/cookbook options.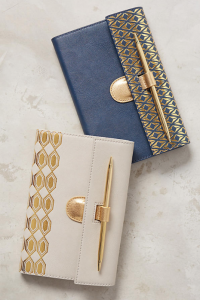 Guy Gifts
My husband loves Moore Maker Knives and swears that any guy would love to get one of these! They have many different styles of knives, and are high quality. Bonus that they are a Texas company!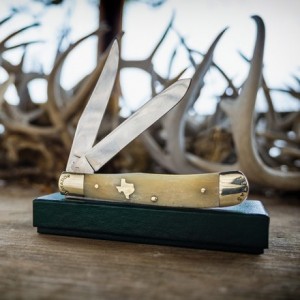 These Pendleton scarves would be the perfect cold-weather gift for your favorite guy. They are pure wool, and come in three different patterns. Really, any of the Pendleton accessories, blankets or clothing would be a great gift!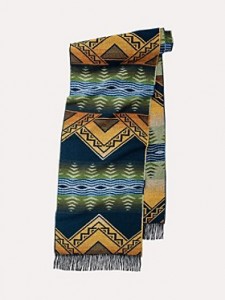 Everything from Bexar Goods Co. is awesome! They have a huge selection of leather goods at all price points. If you have someone that is hard to shop for, this is the place to look – you can find something for every guy on your list. They are also a Texas-based company! Below are just a few of the things I thought were cool, but again, there are so many items to choose from!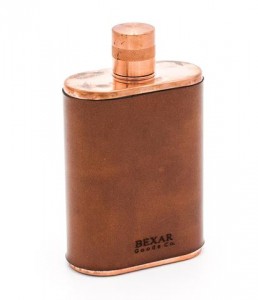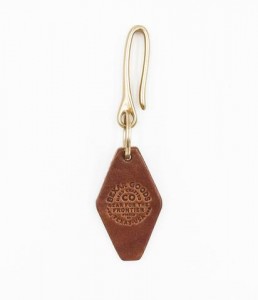 Gifts for the Ladies
Stella & Dot has great jewelry options for just about everyone. If you have questions, or want to work directly with a Stella & Dot stylist, you can visit my sister-in-law's page. Stephanie is awesome, and can give you tons of advice and style help! I LOVE these Gilded Path Ear Climber earrings from Stella & Dot. They are so pretty, but also have a little edge to them.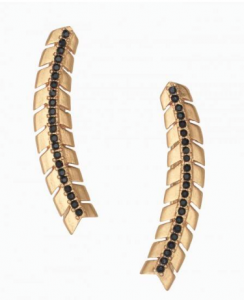 I also love the Stella & Dot Engravable Necklaces. I tend to lean towards gold, but they come in silver as well. I love that you can make someone's gift super personal. You could engrave a child's name, someone's grandma name (the grandkids call my mom Lulu), a favorite city or hometown, coordinates for a special location – really the sky is the limit here! Such a fun and special gift.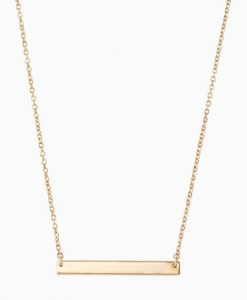 The Barefoot Dreams Drape Front Cardigan may be one of my favorite things of all time. Let me keep it real here – I don't have one of my own (I know), but I know several people who do, and I've given them as gifts. These are the softest, most comfortable, flattering cardigans. They are perfect for snuggling up on the couch, or look cute with your jeans and boots. They come in seven colors, but I think the pewter/black ombre is my favorite. (pewter pictured below) These are also perfect for travel, so if you know someone who travels a lot, this would be such a thoughtful gift!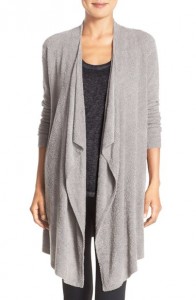 Yes, I know I've mentioned the Beautycounter Holiday Gift Sets multiple times already, but I'm listing them here again. There is something for everyone in these sets. Women, men, teens – you can find something for everyone. I love Beautycounter because they choose to use safer ingredients, yet their products are high-performing and luxurious. If you have questions, feel free to email me, and I will help you choose the perfect gift. You can also join my private Facebook Group for product tips and info, the latest sales and deals, etc. Beautycounter will have some great Black Friday and Cyber Monday sales, and joining the group is the easiest way to get that info. The other great thing about these sets is that you can also divide them up for multiple gifts or stocking stuffers!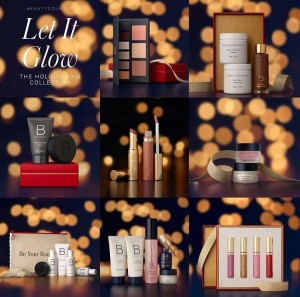 The Marshmallow Slipper Socks would make the best gift. These are lined with faux fur, and are perfect for snuggling up on cold winter nights. They come in two colors – a soft gray, and a cream color. Any girl would love to get these!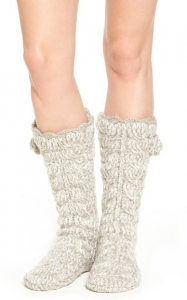 For the Kiddos
I have a tradition of giving my niece and two nephews pajamas every year for Christmas and Hanukkah. This might be more for me than for them, but they seem to enjoy getting them every year. My nephews are still young, but my niece is almost 15 and still likes to get pajamas, too. We love the sets from Bass Pro Shops for the boys. They are so soft, and always have the cutest patterns. They always have a ton in store, but have a few choices online. There are also some really cute options for young girls, too!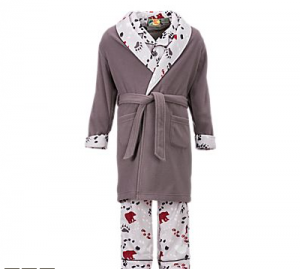 For teens, I love these Patterned Thermal Leggings from Old Navy. I bought some of these for myself last year, so they are great for ladies, too! They are soft, comfy and warm and come in 11 different patterns. I like to pair them with a thermal henley or soft tee. There are also thermal tees that match the patterns of the leggings but I personally like a solid colored tee just to break things up a bit.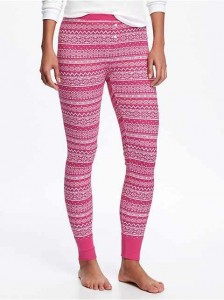 For teen boys (or men!), Old Navy also has great flannel pj pants in a variety of plaids and patterns. These are always a hit with my husband and stepsons, too!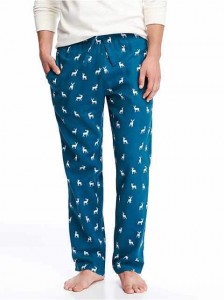 All of the Old Navy PJs (and lots of other items) are 40% off right now, so get to shopping!
I will be honest, when it comes to picking toys for the kiddos, I leave that up to my husband. He always picks the things kids love. I always try to buy books, but that always gets vetoed. I will just suggest jammies because I think they are fun, and something kids, teens and adults can wear for months after Christmas is over.
Give the Gift of Good Health
This is the time of year for celebrating and enjoying our loved ones, but when the New Year hits, we're all ready to get our eating habits on track, and live a healthier lifestyle. If you know someone who loves living healthy, is dealing with health conditions or wants to be healthier, or just need a gift idea for the person who has everything, I've got some suggestions for you!
I mentioned this first company, Lilly & Bella a few weeks ago, but had to include them again. This is their mission: Busy parents deserve to have every opportunity to be the best parents they can be. When it comes to baby food, they deserve to have more options than jars and pouches. Our mission is to provide busy parents with more options to do what's best for their child. With our service, we provide parents with a convenient option for providing fresh, organic produce. We seek to simplify baby food and support parents in giving their child only the best. Through a focus on community and service, we will always seek opportunities to uplift parents across Texas by increasing access to healthy produce they can count on.
Y'all they deliver fresh, organic produce right to your door so that you can make your baby stage-appropriate food at home! The recipes are easy to follow and have very few steps – they are not time-consuming at all. You don't have a baby? Well, they have a family box with easy-to-make recipes for delicious side dishes. My stepsons are only here on certain weekends, but I want the family box for me and my husband every week! The boxes are available for delivery Texas-wide. Know a family who could use this? They have gift card options as well. What a fun gift for the holidays for a family, a couple or even a single person!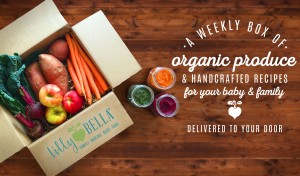 If you know someone that has health issues, or just wants some help with living a healthier lifestyle, sessions with a Nutrition Consultant (like me!) might be right up their alley. I work with my clients to address health and lifestyle concerns for each individual from a holistic perspective. I specialize in gluten-free living, food sensitivities and allergies, autoimmune conditions, inflammation and diabetes, but can help with many other health issues and concerns. If you're interested in gifting some sessions, send me an email for more information. I will also be offering discounted sessions for blog readers in February, so be sure to mention that you saw this post!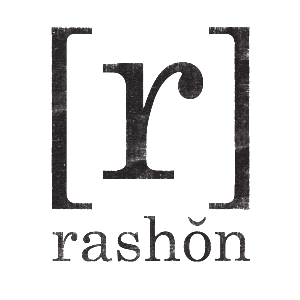 Do you know someone who loves to work out, or wants to start exercising more? I highly recommend the Barre3 online workouts. Barre3 is an awesome mix of ballet, yoga and pilates, and works out the entire body. They offer 10, 30, 40 and 60 minute videos, with new videos posted each Monday. There are also recipes, meal plans and instructor support. They have a variety of subscription plans, and this would make such a fun, thoughtful gift. If you have someone on your list that travels often, this is a workout they can take with them and access from their phone, tablet or laptop as well.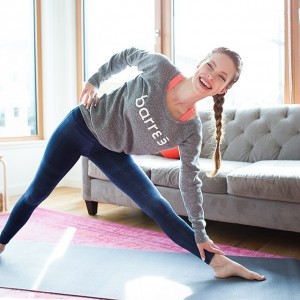 Many of you may know someone who has to avoid gluten or grains due to health issues (hand raised here). As you may also know, finding a decent gluten and grain free bread option is not the easiest task. Many of these breads are dry, hard, fall apart, don't toast well and don't taste all they great. Well, thanks to Legit Bread Company, there's now a bread option for those with these dietary restrictions. And it's paleo, too!! It tastes delicious, holds together, toasts (grilled cheese anyone?), has a great texture. This bread is just what it claims…Legit! You can buy bread mixes, loaves of bread and even the recommended bread pan for baking on the site. This is a woman and veteran-owned business, too, so you can feel good about supporting their venture, while getting to eat some delicious bread! My friend Jennifer at Predominantly Paleo is the mastermind behind Legit Bread, and if you're familiar with her site and recipes, you know everything she makes is delicious. And look at that sandwich…seriously people, go order the bread or mix and have it shipped straight to your loved one's door!
I hope this list gave you some fun, different gift options! If you have gift ideas, products you love or products you make/sell, please leave links or pictures in the comments. I would love to have more ideas to add to my own list. I hope each of you has a wonderful, happy holiday season!