Y'all! It's been a minute! After some much needed time, I'm back with all of my regular scheduled programming! Note: I've been working this whole time, but took a break from some of my usual posts. Anyway, it's about time, so let's get to it.
It's Friday! That means it's time for my weekly wrap-up. This is my chance to tell you about what I've been up to, and what I'm loving this week! You'll see that some of it is nutrition and health related, and some of it is just for fun. Let's go!
What I'm Eating:

I'm going to be honest. We're in a food rut around here. With the busy-ness of life, I'm lucky to just have an actual meal planned. My goal over the next few weeks is to re-visit all my Pinterest boards and favorite websites, and get some ideas to start incorporating into our weekly meal plan. Please note that I use "meal plan" very loosely. By meal plan, I mean the things I add to my HEB curbside order, and plan to make sometime that week. Anyway, I did try a new recipe last week – the Paleo Buffalo Chicken Casserole from Wicked Spatula, and I thought it was pretty tasty. This is a great option to sneak in veggies for the kiddos (it's loaded with riced cauliflower, but they'd never know it once it's cooked), and is also great if you're trying to stay low-carb. It's of course gluten-free, and you can change it up a thousand ways. I tolerate dairy fine, so I added in some blue cheese crumbles (if you are eating paleo, don't add any dairy), and then served it with the typical buffalo wing accompaniments – some ranch/blue cheese (choose a clean dressing!), carrot sticks, celery, cucumber, cherry tomatoes. It was yummy, and all the veggies on the side gave some crunch to the whole thing. To make things really easy, I used the pre-prepackaged riced cauliflower (it was frozen and worked fine) and an organic rotisserie chicken. If you're looking for something new and different, this one is worth a try!
What I'm Reading:
I'm doing some research right now for a new project, so all of my reading has been super focused on that. I'm looking forward to some fun reading soon. Any book recommendations for me?
What I'm Watching:
Marvelous Mrs. Maisel. You guys. I think everyone has watched this now, but if you haven't, you need to go do it right now. I don't care if you're at work, or in bed or busy. Just watch it. ? This is an Amazon Prime series, and is written and directed by Amy Sherman-Palladino, who also brought us Gilmore Girls. The story is set in New York in the 1950s, and through a series of life circumstances, the main character, Midge Maisel, becomes a stand-up comic all while trying to balance being a wife and mother. Okay – I'm not doing this any justice. Just know that the story is amazing, the actors in it are incredible, and it is hilarious. Shout out to my sister-in-law, Stephanie, who told me to watch it! I then binge-watched the whole season while I was sick, and haven't stopped recommending it to anyone who will listen since. Go watch it now!
What I'm Listening To:
P!NK – Beautiful Trauma. I have been listening to this song for weeks, and am even more obsessed with the video. (The song has some language, and the video may not be suitable for all ages.) I mean, can you go wrong with P!NK and Channing Tatum dancing? I don't think so. Love it.
What I'm Wearing:
Ok, so I know we're headed into spring, but I have been loving this BP. V-Neck Sweater. It is super soft, has a great fit, and it's lightweight, so it works for transitional weather, too. I bought the black (of course), but the grey color is super cute, too!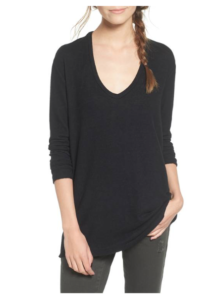 I've also had two pair of earrings on repeat. The first is this great pair of BaubleBar Arie Threader Earrings. They are super light, so much so that I forget I'm wearing them, and they go with everything!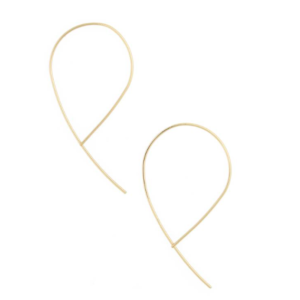 These Madewell Ear Jackets are so cute! They add a little edge to any outfit. I was in Nordstrom last week and noticed they had a matte finish version as well.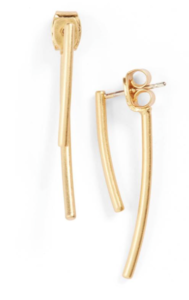 What I'm Loving:
My Practical Guide to Wellness series is back this week, too! Our latest objective is to get moving! I need this, and am looking forward to sharing what I'm doing to get moving over the next few weeks. Be sure to join in, and follow me on Instagram. My goal is to share a lot more info in my IG stories, so you won't want to miss it.
I'm Looking Forward To:
1. This new project I'm working on – it has the potential to help a lot of people, and it's something near and dear to me, so I can't wait to be able to tell you all more!
2. I have a nutrition class coming up at the end of April. More details coming soon, but I hope those of you who are local will join me!
3. I'm ready for Spring! I need to see some green, some flowers and I'm ready for it to stay light later.
What are your favorites from the week?
SaveSave