It's Friday! That means it's time for my weekly wrap-up. This is my chance to tell you about what I've been up to, and what I'm loving this week! You'll see that some of it is nutrition and health related, and some of it is just for fun. Let's go!
What I'm Eating: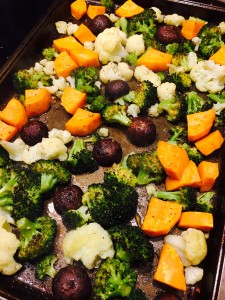 Alright, y'all. I'm keeping it real here. This week has been super busy between work and a class that I'm teaching, so our schedules have been really out of whack. I've had some lettuce wraps with veggies and hummus on the side, a few take-out salads with lots of veggies and oil and vinegar dressing and a lettuce wrapped burger. I also had gluten-free shepherd's pie, which was comfort food to the max. I had that with a salad to lighten things up a bit. A lot of my meals were on the go, but I made the healthiest choices available.
Once things calmed down a bit, I was able to roast a pan of veggies – broccoli, cauliflower, mushrooms and sweet potato that I could use in multiple meals. My dinner also served as part of my breakfast the next day. This is actually one of my favorite time-saving tips! Roast the veggies with simple seasoning, then you can change up the spices and protein for multiple meals without feeling like you're eating the same thing over and over.
What I'm Reading:
I haven't had a lot of time for reading this week, but I'm really excited about my posts on endocrine (hormone) disruptors. If you've got a few minutes, Part 1 explains what endocrine disruptors are, and Part 2 covers 7 common sources of disruptors and steps to take to avoid them. This is really such an important topic, and if you are dealing with health issues, trying to lose weight or just looking to live a healthier life, definitely take a look at these posts!
What I'm Watching:
Knock Knock, It's Tig Notaro. In this Showtime documentary, they follow comedian Tig Notaro as she travels across the country performing her stand-up in the homes, backyards and even a corn field, belonging to her biggest fans. She talks a bit about her struggles with health issues, including her battle with breast cancer and the death of her mother, and her vulnerability and openness is pretty amazing. While there a few brief serious moments, most of this documentary is full of laughs. I don't know the last time I laughed out loud so many times. Highly recommend!
What I'm Wearing:
This is what I wrote last week: Okay, so it is still hot as hades here. I love Texas, but I do love cooler weather, too. I'm boycotting shorts at this point (even though they would be a lot cooler) and wearing jeans daily because I'm just that ready for fall.
Basically all of this is still the same. We had two days where it was in the 70's and then it went right back to maybe ever-so-slightly less hot. If I ever get to wear anything fall-like, I will share some of my favorites with you! I'm still on the search for brown booties. I might be am over-thinking that purchase just a bit.
What I'm Loving:
So this isn't a new thing, but I happen to love the "feud" between Jimmy Kimmel and Matt Damon. If you don't know what I'm talking about, you need to google it. A few weeks ago at the Emmys, the feud continued. Honestly, this just made me laugh, and I've seen it come up in my newsfeed a few times. We could all use more laughter in our lives. Laughter counteracts the stress response – it does our bodies good!
What I'm Looking Forward To:
During the month of October, I will be donating a portion of my Beautycounter commissions to charity! More on that soon. I will also be doing some product giveaways, so be sure you're following me on social media: Facebook, Instagram and Twitter.
What are your favorites from the week?
Disclosure: I am a Beautycounter consultant. Beautycounter's mission is to get safer products into the hands of everyone. I only promote products that I believe in, and that I know work well and meet my own high standards. Purchasing through the link above provides me with a small commission. Thank you for your support!