It's Friday! That means it's time for my weekly wrap-up. This is my chance to tell you about what I've been up to, and what I'm loving this week! You'll see that some of it is nutrition and health related, and some of it is just for fun. Let's go!
What I'm Eating: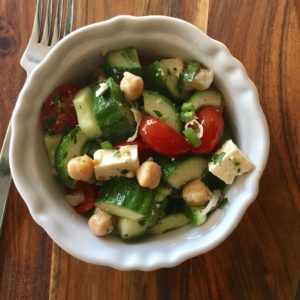 With the heat, my body has really been craving salads and lighter fare, so a lot of our meals are variations of this Mediterranean Salad. What I love about recipes like this is the versatility to change up ingredients and use whatever you have on hand. We do a lot of salads that use cucumber and tomato as the base, and then we add in different things depending on what's in the fridge – spinach, avocado, radishes, carrots, zucchini, etc. If making a dressing isn't your thing, I highly recommend checking out Tessemae's dressings. For you central Texans, you can find them in the produce section at HEB. The ingredients are clean, and they are all super tasty. Their green goddess dressing is one of our favorites, and it adds tons of flavor to any salad.
What I'm Reading:
Fresh Made Simple: A Naturally Delicious Way to Eat by Lauren K. Stein. You all know my love for cookbooks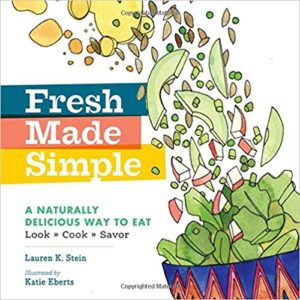 knows no bounds. Yes, I'll say it again, I read them cover to cover like a regular book. Seriously the best. So this cookbook was a gift from my brother, who knowing my love of cookbooks, and my love of healthy, whole foods grabbed this for me. This cookbook is a little different, but it's also super fun, and really makes cooking simple – just like title says. It's divided into sections based on form and textures – Scrambled, Smooth, Smashed, Roasted & Toasted and so on. These recipes are a reminder that eating flavorful, delicious food really only takes a handful of ingredients and can be super easy to prepare. I would say this book is perfect for inspiration and tasty recipes, but would also be a fun way to get your kids involved in cooking. The recipes are easy to follow – and everything has illustrations instead of pictures, so it's just fun overall. While there are some measurements here and there, much of it is a pinch of this, or a handful of that. It's not necessarily exact. This is how cooking should be – fun, a little experimental and not so precise (unless you're baking, of course). At less than $10, this is a cookbook worth adding to your collection. And if you're not obsessed with cookbooks like some of us, it's a fun place to start.
What I'm Watching:
Ray Donovan. I know you won't be surprised when I tell you that as usual we were late to the party on this one. A couple of years ago, we watched the first few episodes, got distracted by some other show, I'm sure, and kind of forgot about it. We just recently picked it back up again, and I'm sad we ever stopped watching it. We're only on the second season, so we have a ways to go, but I love this show. Can you really go wrong with Liev Schreiber, Elliott Gould and Jon Voight? The cast is pretty great. The basic premise (from Showtime) is this: Set in the sprawling mecca of the rich and famous, Ray Donovan does the dirty work for LA's top power players. Liev Schreiber is the go-to guy who makes the problems of the city's celebrities, superstar athletes, and business moguls disappear. This powerful drama unfolds when his father, Jon Voight, is unexpectedly released from prison, setting off a chain of events that shakes the Donovan family to its core. Y'all, this show is good. The Donovan family is also from South Boston, so after a few binge sessions, I hear everything in a Boston (well, to be accurate, a South Boston) accent in my head. This is the Season 1 trailer because, well, I'm not giving myself any spoilers.
What I'm Listening To:
Grace Potter and The Nocturnals – Ragged Company. This song has been my jam the past few weeks. Maybe it's just my reminder that healing has to start with me. No matter where I go, I'm still there. I'll leave that as my one deep thought this week.
What I'm Wearing:
I know it's a little early for sweaters here in Texas, but I bought this cute Trouve Bateau Neck Sweater during the Nordstrom Sale. I got it in the gray, but I'm thinking I might need in black, too. Because of course I need it in black. It comes in five different colors, is super flattering and will be so cute with skinny jeans and booties. It's also long enough that you could wear it with leggings. I would say it fits true to size.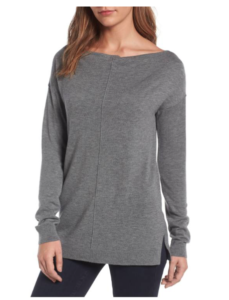 In more weather-appropriate wear, the Make + Model Gotta Have It Tee is perfect for casual wear or working out. The fabric is super light and flowy, doesn't cling to places you don't want it to cling to, and is just a great fitting tee. At 2 for $39, you can't go wrong. I only ordered one, in the Grey Castlerock color, but I definitely wish I had ordered two of them. There are four colors to choose from. They fit true to size, but order one size up if you want it a little loose, or for a slouchier look.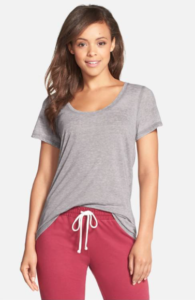 What I'm Loving:
You all know that I am all about safer personal care products. I'm also about living life, and sometimes a girl just wants a gel manicure. I hate that it can damage your nails, though, and the process of taking it off is a pain. I recently discovered essie Gel Couture polishes, and they are AMAZING. It is a quick two step process. You do two coats of color (letting each coat sit for one minute before applying the next) and then you top it off with their special top coat. That's it. The brush has a special shape which makes it really easy to apply cleanly, and the polish itself dries really fast – especially compared to regular polish. I wore my polish for 10 days before removing, and I had zero chips or issues. I could have kept it on several more days. The greatest thing is that you just use regular old nail polish remover to take it off – you don't need the harsh acetone that sits on your fingers for 20 minutes and soaks into your skin. For me personally, it's a great, somewhat safer option when I occasionally want painted nails. I've found this line at Target, Walgreens and on Nordstrom's website. I'm sure many other stores carry it. Each bottle is $11.50, and you do have to buy the top coat as well, but considering the last gel manicure I got cost me $55, I think it's pretty good deal. There are over 60 colors to choose from, too! Below I chose a random color (V.I.Please) to show, along with a pic of the topcoat. The shape of the bottle makes it easy to spot this collection


I'm Looking Forward To:
Together.  This is directly from the website: "Together Live is a national touring event — headlined by Glennon Doyle, Abby Wambach, Luvvie Ajayi, and emceed by Jennifer Rudolph Walsh — that will bring an array of thought leaders, local activists, artists, athletes, and celebrity guests to cities across the country this fall for a night of inspired talks, interviews, and interactive conversation.
During this three-hour experience, you will hear from badass earth-shakers, hilarious heroines, and authentic storytellers. We will focus on finding purpose, overcoming fear, choosing love, and effectuating change. You will leave asking questions about your own path; where you came from, why you're here and where you are going.
This community is a radical, vital act of love and transformation during an important time. We are the ones we've been waiting for, and it's time for us to come together."
You can check out the website for more info, but they will be in Austin in October, and I can't wait to hear all of them speak. Jen Hatmaker, will also be at the event in Austin, and I couldn't be more thrilled. Right now, we could all use some love, unity, community and inspiration. Also, if any of these women wanted to be my BFF, I wouldn't be mad about it. I love them, and in my mind, we're already besties anyway. #imnotastalker #dontjudgeme
What are your favorites from the week?