Good Monday morning, y'all! I have to admit, I'm actually pumped about this week. Wait…I have jury duty on Wednesday, and I'm not especially pumped about that. I don't really want to do that. #sorrynotsorry
I'm pumped about the rest of this week, though. I'm doing something for myself today that has been a long time coming. I'll probably talk about it more in the future, but for today, I'm keeping that to myself. This coming weekend, I'm celebrating turning 40 with some of my favorite people. I'm feeling excited for this week, and for everything that is to come. I'm embracing this week, and I'm ready to get some shit done.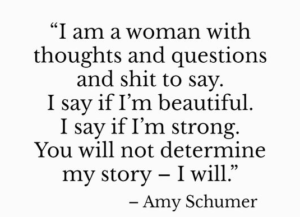 Ladies, let's remember this as we move through this week. We are all strong. We all have a story. We all have things to say. None of that is determined by anyone else. We get to choose what we say, how we feel about ourselves. Our stories are our own, and no one can decide that for us. Let's claim our own power this week, and while we're at it, let's remember to lift up the women around us, too.