It's Friday! That means it's time for my weekly wrap-up. This is my chance to tell you about what I've been up to, and what I'm loving this week! You'll see that some of it is nutrition and health related, and some of it is just for fun. Let's go!
What I'm Eating:
Egg Muffins. This week I have been focused on making sure each meal is balanced, and I needed an easy breakfast. I use a simple base of 8 eggs, 1/4 cup of whole milk (you can use full-fat coconut milk, almond milk or whatever you have on hand) and 2 Tbsp. coconut flour (optional). Then you can add in whatever fillings you want. We chose sausage, spinach, mushrooms, onion, garlic, cherry tomatoes and just a bit of cheddar cheese on top. This will make 12 regular sized muffins. Bake at 375 degrees for about 20 minutes. I served these with avocado and a few strawberries for a complete, balanced breakfast.
My favorite beet salad.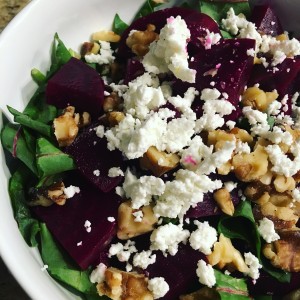 I shared a simple recipe for this in my post all about beets. It is so good, and can work as a side salad or an entreé salad – not to mention it's packed with nutrients!
What I'm Reading:
Why Do I Still Have Thyroid Symptoms When My Lab Tests Are Normal? by Datis Kharrazian, DHSc, DC, MS
I have been dealing with some thyroid issues of my own recently, and this book is packed with information. I'll be talking more about this soon. If you are struggling with thyroid (or any other health) dysfunction and need some nutritional and lifestyle support, I would love to work with you. There is good health to be had! Send me an email to set up an appointment.
Uninvited by Lysa TerKeurst
I am currently reading this as part of an online bible study. This is a powerful teaching about dealing with past rejections and hurts, and learning to live in the fullness of God's love. I've just started the book as of this writing, but even just a few chapters in, I'm learning so much.
What I'm Watching:
UT Football. Everyone caught that game on Sunday, right? Double overtime?!? Hook 'em!
Also waiting for some of my favorite shows to come back for their fall season.
What I'm Wearing:
It's still hot here in Texas, so it's shorts and short-sleeves. I'm already dreaming of sweaters, plaid shirts and my favorite booties! Bring on the fall weather!
What I'm Loving:
Beautycounter Purifying Charcoal Mask.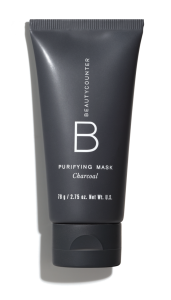 Y'all, I can't tell you enough good things about this mask. It exfoliates, draws out impurities and soothes your skin. You can also use it to spot treat break outs. I've been using it once or twice a week, and my skin is so soft and bright. It is awesome! Beautycounter is committed to safer ingredients in their products, and I can use it knowing that I'm not doing harm to my health. Great skin + safer beauty = WIN WIN!
What I'm Looking Forward To:
Cooler weather, college football and getting to be outdoors more with the Fall season.
Beautycounter for Target launches on Monday, September 12th! Target is doing a designer brand spotlight on Beautycounter, and there will only be a select number of products available to purchase. When the store sells out, that's it – products won't be restocked. This is a great opportunity to try a smaller size of some of our most popular products, and a few Target exclusives. There will also be gift with purchase coupons in the package, and you can redeem those on my Beautycounter website! If you have any questions about the products, I'm here to help!
I think that's it for this week! What are your favorites from the week?
Disclaimer: I am a Beautycounter consultant. Beautycounter's mission is to get safer products into the hands of everyone. I only promote products that I believe in, and that I know work well and meet my own high standards. Purchasing through the link above provides me with a small commission. Thank you for your support!