It's Friday! That means it's time for my weekly wrap-up. This is my chance to tell you about what I've been up to, and what I'm loving this week! You'll see that some of it is nutrition and health related, and some of it is just for fun. Let's go!
What I'm Eating:
This week has been really hectic, so healthy meals that could be made quickly were in order. I made the Instant Pot Chicken Yum Yum from Predominantly Paleo the other night. This was SO good! The recipe was super simple to follow, and cooking in the Instant Pot meant dinner was on the table fast. Just a quick note: remember to use high-quality ingredients for this. Choose homemade ketchup or a store-bought brand that doesn't have high-fructose corn syrup and extra additives. I wanted to serve this with cauliflower as recommended in the recipe, but I didn't have any on hand. We had just a little brown rice, and then I made roasted okra and a salad to go along with it.
Jennifer Robins at Predominantly Paleo has some awesome cookbooks as well! I highly recommend that you check them out. If you're looking for healthy recipes for kids, her new Paleo Kids Cookbook is fantastic!
What I'm Reading:
Eating on the Wild Side: the Missing Link to Optimum Health by Jo Robinson. To be fair, I read this book months ago, but I keep going back to it for information. It's all about how to select, store and cook food to ensure maximum nutrition and flavor. Part One of the book covers vegetables and Part Two is all about fruit. The book is easy to read, and broken down so that it's easy to reference as well.
Why Not Me? by Mindy Kaling. I started this book last weekend while I was on the road and had a little downtime. Mindy Kaling is hilarious and relatable, and this book has made me laugh out loud. Definitely a great choice for a fun read.
What I'm Watching:
The Goldbergs. Y'all, my love of the '80s runs deep, and this show just makes me happy. They started the season off with a Breakfast Club themed show. Too good. We don't watch many sitcoms, but this is a must in our house. If you haven't watched it, you should.
What I'm Wearing:
Okay, so it is still hot as hades here. I love Texas, but I do love cooler weather, too. I'm boycotting shorts at this point (even though they would be a lot cooler) and wearing jeans daily because I'm just that ready for fall.
What I'm Loving:
My Instant Pot. If you don't have one of these, you should really consider it. It's a 7-in-1 Multi-Functional Cooker–Pressure Cooker, Slow Cooker, Rice Cooker, Saute/Browning, Yogurt Maker, Steamer & Warmer.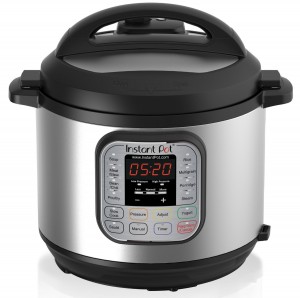 It makes cooking easy and fast (hello, frozen chicken cooked in 40 minutes!), and I love it! I bought mine on sale months ago – Amazon has great deals on them fairly often. I'll admit, I'm just getting into the swing of using it, and plan to use it A LOT this fall and winter. There are tons of great recipes for the Instant Pot out there. (Note: Jennifer from Predominantly Paleo has tons of great Instant Pot recipes.)
What I'm Looking Forward To:
We've had a crazy week here, and found out we will be doing a lot of traveling later this year. I'll be sharing some great tips for eating well while traveling, and will be sure to share some pics on Instagram, so follow me there.
Also, don't forget that I'm celebrating! Beautycounter for Target launched on Monday, September 12th! Target is doing a designer brand spotlight on Beautycounter, and there will only be a select number of products available to purchase. To celebrate this collaboration, I'm offering a $5 Target gift card for every $50 you spend (before tax and s+h, up to $200 in product purchases) when you buy through my Beautycounter website through September 30th! Yes, you could get up to $20 to spend at Target!
I think that's it for this week! What are your favorites from the week?
Disclaimer: I am a Beautycounter consultant. Beautycounter's mission is to get safer products into the hands of everyone. I only promote products that I believe in, and that I know work well and meet my own high standards. Purchasing through the link above provides me with a small commission. Thank you for your support!